No longer suburban, Bruce Bentzman offers the latest piece in his new series:

From the Night Factory


8. Caravaggio and Jack Layton

They announced the earthquake over the radio. "Did you feel it?" asked Ms Keogh, my more significant other. The earthquake had its epicenter in Virginia and radiated up the East Coast. We didn't feel a ripple while driving the Northeast Extension of the Pennsylvania Turnpike. The earthquake had been there, beneath us, but we could not distinguish it from a momentary bad patch of roadway or a passing truck. There was plenty of roadway construction. We were en route to Ottawa, a round-trip journey of over nine hundred miles to visit the National Gallery of Canada just to see the exhibition

Caravaggio and His Followers in Rome

. It was the farthest we had ever traveled to view works of art.

"Why are we going all the way to Canada to see the paintings of this nasty person?" I asked Ms Keogh. Nasty he was; Michelangelo Merisi da Caravaggio was notoriously temperamental, known for going to tennis matches just to pick fights. At one such tennis game he killed a man. Caravaggio had no business even sporting a rapier; he was an artist, not a gentleman! Only gentlemen were permitted to carry swords. Ms Keogh and I discussed how there is not necessarily a correlation between talent and goodness of personality. Ms Keogh believed Caravaggio's behavior indicated symptoms of lead poisoning, which were certainly present in the pigments he used, "especially the white," she observed, "to provide the brightly lit skin tones."

Our drive north was through the ancient mountains of Pennsylvania and New York, worn and rounded by the eons. The ancients were clad in summer forests draped with shawls of mists and clouds, bejeweled with small towns and villages. Because the mountains are beautiful, I did not begrudge the long drive. And because, even after being together for twenty-seven years, I can still enjoy Ms Keogh's conversation, I could cherish the time spent in the car. We talked mostly about art. Mere decoration? Did talent alone determine fame? What was it that commanded such high prices for the canvases of certain painters when their works appeared on the block at Sotheby's and Christie's? Rarity? Originality?

We took an immediate liking to Ottawa. It had a European feeling that was lacking in the cities of the U.S. However, the National Gallery appeared to me like a glassed-in birdcage. It sat in contrast to the impressive Gothic Revival architecture of Canada's Parliament.

About sixty paintings in the world can be attributed to Caravaggio. While the exhibition consisted of some sixty paintings, only a dozen were from Caravaggio's brush. This was a disappointment to Ms Keogh. The majority of the paintings in the show were by the artists he had influenced. Do we appreciate Caravaggio for all time, because no one later did it better, the way we admire Shakespeare? Or do we make allowances, taking his achievement in context and telling ourselves, he did it first?

Caravaggio broke with tradition. He took away the ubiquitous flood of light that filled paintings and he disregarded the idealized forms of his subjects. He introduced a higher degree of chiaroscuro and with it drama in the posture and expressions of his subjects. He painted the natural flaws in things, the blemishes of people and fruits, the fungal damage to a leaf or where an item had become worn. He did not make perfection of his subjects, only perfection in their reproduction. Painting from life, Caravaggio insisted on working in the studio. Rejecting offers to do frescos, he worked directly onto canvas without first drawing studies.

Ms Keogh and I move at a different pace through the galleries, strolled independently from room to room. In this exhibition, she was quicker than me.

I was stopped short at Jusepe de Ribera's painting of "Saints Peter and Paul". There was an upside-down face, that of a child, strangely incorporated into the shadowy folds of the scroll the two saints were holding. It was so blatant to my observation, I expected a full account for it in the descriptive plaque, but there was no mention of the head. I looked about me and no one else seemed to notice, no one other than me was cocking their head sharply for a better view. I asked the guard, but he knew nothing about it, had never noticed it until I pointed it out. I also asked if I could photograph it, but it was not permitted, not even with my cell phone's camera.

I rushed ahead to find Ms Keogh. She said she hadn't noticed such a thing and that it was one of the paintings she liked most. I dragged her back through the exhibit to see it again. To my relief, when we re-entered the room, there was a young woman who, like me earlier, was cocking her head – she also could see the inverted child's head. After I pointed it out, Ms Keogh saw it, and she has not forgiven me for spoiling a painting she liked until that moment.

I assure the reader, the head is there, and later when I searched the internet, I could find no explanation for it, nor could the head be seen on any of the images I found available on the internet. The painting must be viewed in person. This exhibition is being shared by two museums and is next traveling to the Kimbell Art Museum in Fort Worth, Texas. It will arrive there shortly after this essay appears in

Snakeskin

(beginning 16th October 2011).

Ms Keogh and I were also that day to be accidental witnesses of Canadian history. Before departing the city, we drove past the attractive Gothic buildings of government. We were stunned by the long, long lines, not understanding what was happening. We knew nothing about Canadian politics and its current national events. This tremendous number of people, we later learned, had come to see Jack Layton lying-in-state in the foyer of the House of Commons. The Honorable Leader of the "Official" Opposition, the New Democratic Party, had died at sixty-one from cancer. A charismatic politician, sometimes referred to as the Barack Obama of Canada, he was widely loved. Many had hoped that this left-leaning liberal would in time become Prime Minister.

Caravaggio died alone and unnoticed, was in a short time almost forgotten. Our traveling to Ottawa was a tribute to Caravaggio's fame and talent. It was an exhibition created to honor him on the 400th anniversary of the year he died. He was returning to Rome to receive a pardon from the Pope. He was mistakenly imprisoned for a few days, causing him to miss his boat. It sailed away with all his possession, including his last three paintings and Caravaggio died of a fever on the beach at Port'Ercole in Tuscany. We joined the crowd that flowed through the galleries of the museum. Still, I think about the long column of people who had come to give tribute to Jack Layton. In the world and over time, more people will probably remember Caravaggio, yet I feel Jack Layton could be more deserving, but will Jack Layton be remembered in four hundred years? "Ars longa, vita brevis!"

For the long drive home we shared our thoughts and analyzed our experiences. I might have enjoyed seeing Ottawa more than I did seeing Caravaggio's paintings. Ms Keogh felt the exhibit was merely a tease, "until we will do the Grand Tour of Europe." Crossing the border, I was carrying home the aluminum tube that had held a Romeo y Julieta cigar, a Cuban cigar I had smoked while still in Ottawa. Ms Keogh had tucked
in the trunk
, undeclared, an Italian mop that she thought better than any we could get closer to home.

When we arrived home to our apartment in Langhorne, Pennsylvania, we found Ms Keogh's painting of two pineapples face down on the kitchen floor, but otherwise uninjured. It had been precariously balanced on its narrow edge atop one of the cabinets. It was the only evidence of there having been an earthquake.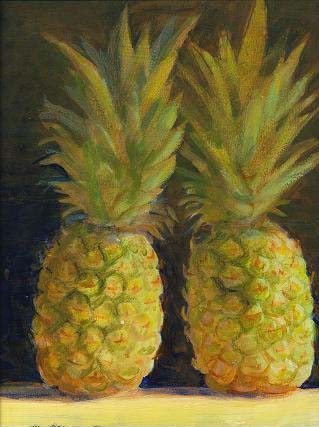 Mr Bentzman will continue to report here regularly about the events and concerns of his life. If you've any comments or suggestions, he would be pleased to hear from you.
Mr Bentzman's collection of poems "Atheist Grace" is available from Amazon, as are "The Short Stories of B.H.Bentzman"