No longer suburban, Bruce Bentzman offers the latest piece in his new series:

From the Night Factory

24. The Rogows of Bayonne

My mother answered the phone. It was her older brother Jesse. He said, "I didn't want you to hear it on the news first; Bussy is dead." I was too young to remember, but my sister was ten-years-old and she recalls our mother violently crying.

On a clear morning, the 13th September 1955, a B-25, the type of medium bomber made famous by the Doolittle Raid, took off from Mitchel Air Force Base on Long Island for the Wright-Patterson Air Force Base in Dayton, Ohio. The pilot was Major James "Don" Judy, a 35-year-old veteran of B-17s during the Second World War. He had earned the Distinguished Service Cross. He was only flying the plane because the original pilot became ill. The flight lasted four minutes.

The plane crashed into an area of Greenfield Cemetery not yet opened to graves. It could be the pilot pointed it there to avoid nearby houses and a school. The plane did not explode, but was mangled and all six men aboard died. Among them was Bussy.

Lee "Bussy" Rogow was only 36, a successful freelance writer. He was survived by his wife, Mildred, and their two children, Margaret, aged five, and Zachary, aged three. Lee is how he signed his articles, short stories, scripts; he wrote for The New Yorker, Harper's Magazine, The Saturday Review, Cosmopolitan, Esquire, the list goes on, and according to my mother he was ghostwriting a column for Billy Rose. He put himself through college writing science fiction. At the time of his death, he was working on a script for an Air Force recruiting film. Professionally known as Lee, his name was Leon, and his family called him Bussy. He was one of Kiki's two older brothers. Kiki was my mother's best friend and remained my mother's best friend until Kiki's death in December of 2011. She was 90-years-old.

I grew up with many stories about the Rogows, and Mr Rogow especially, Kiki's and Bussy's "eccentric" father. For most of my life, I was led to believe they were part of my mother's family, yet was never able to make the connection, my mother having blurred the line between real family and felt like family.

For example, my mother has followed the career of the journalist and media commentator Cokie Roberts, declaring her family. Eventually, I was to discover she wasn't exactly family, but married into "our family" because her husband is Steven Roberts, another journalist and media commentator. However, it turns out, my mother's pride aside, that Steven Roberts is also not a relation. Steven's father – look at that, I'm referring to him as Steven as if we're on a first name basis – was Willy Roberts (having changed his name from Rogow) who was Bussy's older brother. The question is, how did my mother come to regard the Rogows as family? That story begins in the 19th century in Bialystok, a Polish town that at the time fell within the possession of the Russian Empire.

One day, a young woman from Eishyshok, Lithuania reached my great-grandfather's dry goods store in Bialystok searching for a job. Her name was Miriam Wasilsky. Great-grandfather Fisher regarded her kindly, having a daughter himself who also worked in the shop. He gave Miriam a job. Now she only had to find an apartment. "What do you need an apartment for?" my great-grandfather asserted. But he didn't expect her to commute from Eishyshok, 125 miles away. "I have a daughter your age, just like you, and a big empty house. You come and live with us!" And so she did. At this time, four of great-grandfather's children had left home. Only Masha remained. Miriam and my grandmother, Masha, became the very best of friends. They remained friends when years later they both found themselves married and living in the United States.



Miriam and Masha in Bialystok

Esther always accompanied her mother when her mother went to Bayonne to visit Miriam. That is how my mother met Kiki, Miriam's only daughter. Her name was actually Rose. The way my mother remembers it, the tot next door could not pronounce Rose nor Leon and called them sister and brother, but it came out sounding like Kiki and Bussy. Within the family those nicknames stuck.

My mother hated her parents' poverty, the tiny apartment where she shared her parents' bedroom and was tormented by their Orthodoxy. A visit to the Rogows was a thrill. The Rogows' big house was near the Newark Bay.

Mr Rogow was exceedingly fond of my mother, claimed she was family. Mr Rogow, at that time, owned a series of amusement parks, had my mother's family employed at one of them. My grandmother Masha was the cashier at the carousel. My uncle Jesse worked at the pool as a locker boy. My mother was a shill. Little Esther, my mother, would stroll along a line of booths with games, would go up to one and play, and invariably win because it was fixed. 'Oh, look, that cute little girl just won,' and then the chumps would try their hand.

Esther tells me the story of riding with Kiki in Mr Rogow's Rolls Royce when he was pulled over by a Bayonne cop for speeding. Mr Rogow rolled down his window and the cop said, "Oh, it's you Mr Rogow," apologizing and sending the Rolls on its way without a ticket.

My mother loved that it was never quiet at the Rogow dining table, meals were always buzzing with loud talk. There was plenty of food, beginning with a large roast being brought out, usually of beef, but this, unfortunately was torment for my mother. She was not allowed to eat the roast. The Rogows did not keep kosher. Masha would put together a plate with just some vegetables and serve it to her daughter. Always Esther found herself in the same seat at the table and entranced by the view of a large torsion pendulum clock in a bell jar, mesmerized by the circling balls. Then Bussy made his appearance, coming downstairs in full Turkish regalia, the fez, pantaloons, and robe; he would place a hookah beside him on the table and continue to smoke throughout the meal. To Esther's amazement, this was not only tolerated, it was accepted as the norm.
In every way, the Rogows were liberating where Esther's parents were restraining. Once, when Masha was talking about how they always kept Shabbat in the old country, Miriam said, "But Masha, we used to go to the wald on a trolley and meet the boyus on Shabbat."
"Shhh!" said Masha, "the kinder will hear."
It was really only Kiki my mother wanted to see, to sit on the stoop with her or go for a walk. Kiki's older brothers, Bussy and Willy, were extremely close with each other, always upstairs shooting pool or hidden away together in one room or another. Kiki had a younger brother, Morris, who they called Maury. While Maury wanted to join Kiki and Esther, the girls made a point to try to lose him as quickly as possible. Once they succeeded. When asked at home, "Where's Maury?" they proudly announced they had lost him. The girls thought their success quite funny. The Rogows sent the police to find him.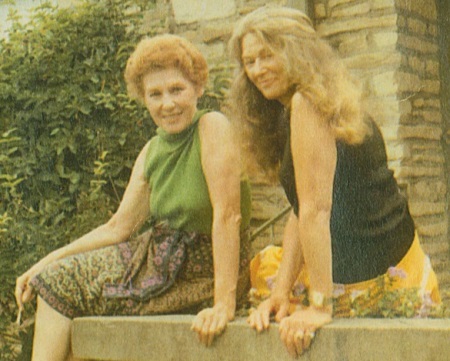 Esther and Kiki


Kiki and Esther stayed friends, just as Miriam and Masha had before them. When Esther married my father, Kiki was the maid of honor, dressed like Juliet. Kiki was enamored with acting and given to histrionics. It was in childhood that I last saw the 16mm film of my parents' wedding, taken in 1942 and I was enthralled with Kiki's performance. It was six months later that Kiki married and Esther was her maid of honor.

"Rogow-Lee, husband of Mildred, father of Margaret and Zachary, son of Abraham and Miriam Rogow, brother of Will Roberts, Rose Mishlove and Murray. Reposing 'Universal Funeral Chapel' until 11 A.M., Friday. Funeral strictly private."

My mother speaks of the funeral, of how the author Herman Wouk gave the eulogy. What she remembers most was when, a day or two later, Mr Rogow told his daughter to contact Esther and have her come visit, because she was family. Kiki must have called from a pay phone, because Mr Rogow, upon learning of his son's death, had ripped all the house phones out of the walls.

Esther made the long trip by subway, train, and bus to Bayonne alone. Her mother had died of cancer a few years before. The Rogows lived in a new house by then, one that Bussy had bought for them. It was not as grand, and in the shadow of the tragedy, it was a forlorn place, empty of the liveliness. Esther was the only guest. Miriam sat alone, still crying, hugging Esther and holding her hands, but unable to say anything except to chant, "My boychik, my shane boychik." Esther didn't see Mr Rogow. He had cut himself off from everyone, had cloistered himself upstairs.

I don't wish to end this story here. I want it understood that memories of the Rogow family continue to bring my mother happiness. When Kiki last visited, she called her brother, Willy, to come down and join them. "Willy, I don't believe it's you," my mother said when he arrived, "you look just like your father." He replied, "No one has called me Willy in years."

My mother is ninety-two and when she last visited me (she still drives), she brought a photo-copied manuscript: Selected Writings of Lee and Mickey Rogow: chosen and introduced by Maggie Rogow for the reunion of the descendants of Abe and Miriam Rogow, August 1995. She wants me to contact Steven and Cokie Roberts, has made me swear to try, and see to it that they get this fat volume in its plastic comb binding. With it she has included a photograph of Miriam, Steven's grandmother. I have tried to explain to my mother that Steven almost certainly already has a copy of this book. Furthermore, most of the articles reproduced in it are available online, but my mother does not fully grasp the internet. "Besides," I pointed out, "you're family, you're supposed to have it."

Yes, she was regarded as family, but I think what concerns her is what will happen to this "precious" manuscript when she's gone. It won't mean anything to us, her children. The connection doesn't extend that far. The book must be returned to those who knew Bussy. It must be restored to the Rogow family.


Mr Bentzman will continue to report here regularly about the events and concerns of his life. If you've any comments or suggestions, he would be pleased to hear from you.
Selected Suburban Soliloquies, the best of Mr Bentzman's earlier series of Snakeskin essays, is available as a book or as an ebook, from Amazon and elsewhere.