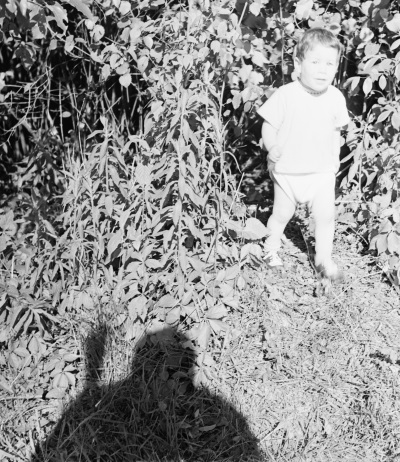 Bruce, aged two or three, with the shadow of his father, the photographer.

Bruce Bentzman offers the latest piece in his new series:

From the Night Factory

27. Ancestor Worship

My father was an Electrical-Mechanical Engineer, born in 1911. Part of my inheritance from him consists of a couple of cardboard boxes. One is a dark blue box, 15" long, 5" wide, and 4" tall. A label reads, Model "PL 25" Phonograph Pickup, Brush Crystal Device. An internet search tells me that this box once held a piezoelectric cartridge made before the Second World War. The second box is red, 7 ½" long, 3 ½" wide, and not quite 4" tall. It once held the Nikor Stainless Steel Multiple Developing Tank, without the reels, which had to be bought separately. In this digital age, these things no longer exist. The boxes had been repurposed by my father, an amateur photographer. He crammed them full with film. This is my burden, it falls to me to review the contents and make them available to the descendants of the people recorded on the film

The photographs are mostly of the family, taken fifty, sixty, even more than seventy years ago. Many of them have never been printed. Here are 2 ¼" x 2 ¼", 35mm, and 3" x 4" negatives, black and white as well as color, even color positives. These boxes have been alternately roasting and freezing for many years in the garage of our house, in which our daughter now lives. Plenty of them have deteriorated beyond reasonable restoration. I can tell you the Ansco film did not withstand the test of time and torture, but have developed thick ridges and pebbly fields, yet the Kodak film survived in exceptionally good shape. I have begun to mine this resource and bring many of these images back to life, a form of ancestor worship.

Brought back to memory are grandparents born in the 19th Century. Here also are uncles and aunts, just like they appear in my thoughts, captured in lively expressions, and I smile to recognize the familiar mannerisms. My memories, as with these negatives, catch them when they were still vital in the 20th Century, yet they did not leave it. And here are my cousins, caught when they were still youthful; we are now the grandparents, the old people to be encapsulated by photographs, to serve as the catalyst for stories by living minds, stories that will be modified by our descendants, to put it politely, by faulty memories and fading points of view.

This task of scanning negatives takes a long time. Just a single 35mm image on negative film scanned at 4800 dpi using my CanoScan 8800F can take between 3 ½ and 4 minutes, and sometimes longer, for no explicable reason. Upon first inspecting the boxes, I figured there to be a few hundred images, but I have been at it for days and have so far scanned over 600. I am scanning now as I compose these words. Reviewing what remains, I have concluded my estimate had fallen short, that there are more like three to four thousand images to be scanned.

Why am I doing this? Some choices are abstract; you begin with an idea and then gather the materials and experience to make it come about. This was not one of those choices. This was one of those occasions when the Fates conspired to have me undertake a role. I had the negatives; I had the scanner; I had the know-how; and, now that I am retired, I have the time. The odd thing about this is the photographs are more important to others than they are to me. My curiosity carries me only so far and my philosophy challenges the validity of the purpose of this task. I am asking myself, what value will any of this have to the future? And this has to be done now, while there are still some alive who can give names to the faces in the photographs. We are not a family that has affected world events. We have not contributed significantly to advances in science or technology. This family produced no "great" authors, names to appear on anyone's bestseller's list – this I know all too well. Fame has avoided us. Who will these photographs of an uncelebrated family serve? This is not to say my family is not endowed with great stories, but isn't every family?

I am seeing images I have never seen before. I stare at myself when I am only five-years-old and find distinct differences between me and the photos I have observed of other children. I seldom look at the camera. My father continually captures me staring off, looking fixedly at something else outside of the frame.

So what is this photograph of an insecticide machine taken 2nd July 1947?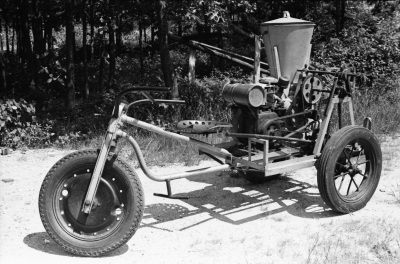 Who is this woman my mother doesn't recognize?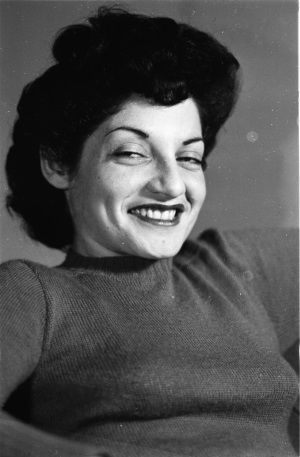 What point is there to a photograph of clouds as they appeared somewhere in New York seventy-five years ago?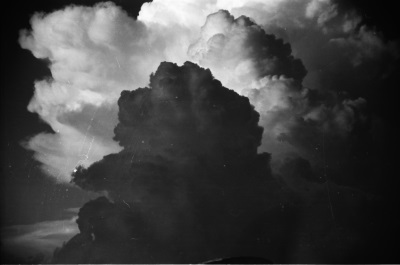 Other people have photographed Niagara Falls and did it better. It is the same with these multiple images across the roof of Château Frontenac in Quebec City, taken from the room my parents stayed in. All I remember of that trip was rolling a rubber ball back and forth with my sister across the rear windowsill of our car on the return trip, and the ball going out the side window on the Henry Hudson Parkway. My mother doesn't even remember me accompanying them to Quebec City, but there is the photograph to prove it.

My father was not a good photographer. Too often his exposure or focus is wrong. He tried to shoot everything with the light behind him and didn't appreciate raking light and the depth provided by shadow. All his shots were from the same height. He tried to place the head at the very center of his composition, but standing so far back he left immaterial background above and to either side of his subjects. Often enough, he failed to center his subject at all and they only half appear. He missed excluding distracting items that half appear in the corner of his frames or behind his subject, or his shadow stretching into the frame. It is a distinct shadow of my bald and stocky father. It charms me to see his shadow like a signature, but what will it mean to others? As often, the images indicate a failure to properly load the film in the camera, or later in the developing tank.

My father was not an artist about photography. The obvious appeal to him was the equipment. The tools and process excited his engineer's mind. He owned, to name a few, an 8mm Minox, a Leica, a Speed Graphic, a Rolleiflex, even a 16mm Bolex movie camera.

This endeavor to review and digitalize my father's negatives is not half finished and I am reminded that tucked into the corner of my grandson's closet is a pile of canisters, containing the movies my father made. They are rotting, neglected, fragile and flammable. I have yet to make a decision what to do with them. A further nightmare comes to mind, that there is yet another box I recall that must still be in the garage. It contains stereoscopic colored slides. They are bound to show up some day.


Mr Bentzman will continue to report here regularly about the events and concerns of his life. If you've any comments or suggestions, he would be pleased to hear from you.
Selected Suburban Soliloquies, the best of Mr Bentzman's earlier series of Snakeskin essays, is available as a book or as an ebook, from Amazon and elsewhere.