Bruce Bentzman offers the latest piece in his series of essays:

From the Night Factory

29. The Twenty-Fifth Annual Concert in the Garden

I see my friends Ron and Stephanie once a year, maybe twice. Iíve known Stephanie since grade school. There were years in adulthood when we were out of touch and then we met again when she was on the verge of marrying Ron. Ms Keogh, my more significant other, and I were invited to their wedding.

After the death of his father in 1986, Ron became concerned for his mother and how to keep her occupied. He launched an annual concert in memory of his father at the Brooklyn Botanic Garden, ďchamber music alfrescoĒ as he described it. Both his parents loved the Brooklyn Botanic Garden; it was there that they met and there his father courted his mother.

Ms Keogh and I attended a few of those concerts, although it wasnít always easy to travel that distance. Ms Keogh still has an umbrella from one of those events. It had rained and the concert was brought indoors. The singer, a countertenor, was very talented, but having a womanís voice emerge from a manís throat was disconcerting for me, this being my problem and not his. (Cognitive dissonance. Iím embarrassed to admit my limitations.) Once the concert concluded and it was time to depart, we were greeted at the doors by a downpour, and Ms Keogh was dressed in thin summer material. I dashed into the curtain of water to the Gardenís gift shop where I purchased an umbrella decorated with Monetís Water Lilies. I returned soaked through, but was greeted with cheers and exclamations from others as to what a gentleman I was.

After the death of Ronís mother, the concerts in the Brooklyn Botanic Garden stopped. However, in time, they were launched again. The concerts still bear their original name, ďConcert in the GardenĒ, even though the chamber music is now in its proper chamber setting, the living room of Ron and Stephanieís home. This is the first year the invitation, always beautifully illustrated by one or the other, came by email and not brought to our door by the postman.

Ms Keogh and I started this perfect autumn day with breakfast at Patís Colonial Kitchen in Newtown, Pennsylvania, wedged into a tiny, crowded eatery for delicious Eggs Benedict among casual and friendly locals. After breakfast, we drove to Princeton, New Jersey by back country roads. We were in Princeton much too early. The original idea was take a long walk in this scenic college town, but Ms Keogh was overwhelmed by post-prandial somnolence. We found a quiet side street, shaded with trees still green this early in the season; we selected soft jazz on the radio, opened the windows, leaned back the seats, and fell asleep for two hours while holding hands. The occasional passers-by left us alone and that is what made it perfect.

Our friends have a comfortable house that Ron, an architect, is always improving, thus a modern kitchen in an old house. The dining room had food and wine filling the long stretch of table. The living room was prepared for the concert, filled with rows of folding chairs on the Asian carpet that covered the wood floors.

They both paint and they both draw, their works were hung in every room. In the hall was an array of family photos, some quite old. There was plenty of artwork by others on the walls, also shelves of objets d'art. At one end of the living room hanged Japanese woodblock prints above the aquarium and at the opposite end stood a Steinway baby grand. Potted plants grew up from the floor in every corner.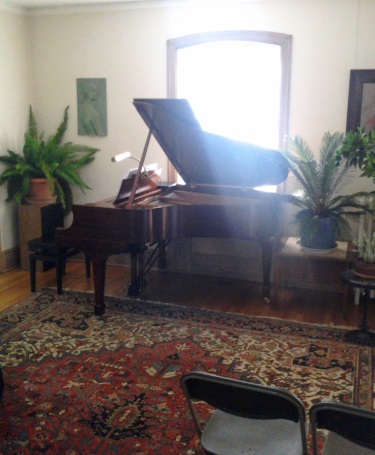 There was a second room, the parlor, off to one side of the living room. It was also arrayed with folding chairs, although fewer, and Ms Keogh and I sat on the couch at the back of the parlor. This put us behind the pianist.

So it was, we were introduced to Julie-Anne Hamula, soprano. Her aquiline nose and the shape of her eyebrows brought to mind Marie Callas. She wore a blue gown that clung to her svelte form with only one shoulder strap. Her blonde hair, tied back, poured behind her and over her shoulders. She took her position in the bend of the pianoforteís cabinet. Her accompanist was Soyoung Kim, a very slender woman who would play with more power than I would have expected from her slender frame. She wore a black gown with draping folds.

It was a fine performance. Ms Hamula not only sung well, she performed with appropriate histrionics. Good music is always a miracle to me. I cannot imagine how one invents melodies that lace profoundly attractive sounds together. Music is the best evidence for a god and I am an Atheist.

She sang a dozen pieces, from Bach to Verdi and Jerome Kern in-between. Ms Keogh and I leaned against each other and kissed during Kernís ďAll the Things You AreĒ. Being the sentimental sap I am, I even secreted a saline solution from my lacrimal glands.

When it was all over, she came back to perform an encore, the thirteenth piece, ďI Dreamt I Dwelt in Marble HallsĒ from an Irish opera, The Bohemian Girl, by Dublin-born Michael William Balfe.

During the performance, I had a view of Ms Kimís hands that was unlike any view I had had before. From the low couch I occupied with Ms Keogh, I could see along the bottoms of Ms Kimís forearms to underneath her palms and where spidery fingers danced. It was a view of a pianistís hands that I had never seen. Every finger appeared possessed of its own intelligence, yet endeavored to work collaboratively. I thought about the novelty of my view and wondered why, in the history of motion pictures that featured the playing of a piano, no one ever focused on this point under the palms?

It is my belief language and music came into being from a shared development that evolved in the human brain. This is speculation, but I suspect the FOXP2 gene with its two particular mutations that humans possess resulted in our having a complex language and a complex music, both possessing a sophisticated syntax. However, whereas language can only be shared by people with the same understanding for the sounds, music is universally understood by humans. There is no better device for bonding people together. We synchronize to the music. We cement relationships.


Mr Bentzman will continue to report here regularly about the events and concerns of his life. If you've any comments or suggestions, he would be pleased to hear from you.
Selected Suburban Soliloquies, the best of Mr Bentzman's earlier series of Snakeskin essays, is available as a book or as an ebook, from Amazon and elsewhere.