No longer suburban, Bruce Bentzman offers the latest piece in his new series:

From the Night Factory

30. A Burglary at Harper's Crossing Part Two

Those who know me, know I have a fondness for fountain pens. I am also a devoted practitioner of the moribund activity of writing letters by hand, in cursive. With twenty fountain pens inked and at the ready on my desk, when I sit to write, my first choice is which pen should I use? These pens have black inks, those pens have blues, a few have brown, that one has green, and then there is one with a J. Herbin's "Larmes de Cassis". Some of the colors I have concocted. There are also nib choices. With lots to write, I pick extra fine. Only a few words, I will probably take up a stub or italic or my only music nib which has three tines. Because I enjoy the tactile sense of having a pen in my hand, when I complete a missive, I switch pens before beginning another. It is by transition from one pen to the other that the tactile pleasure is refreshed and maybe it is why my hand never tires. But if I cannot make up my mind which pen to employ, I default to the inked pen that has been neglected the longest.

Of all the pens in cups on my desk, there was one inked pen in my desk drawer, a very large Danitrio Mikado made of raw ebonite and without a clip. My hand reached deep into the back of the center drawer of my desk and could not find it. Shock! A further search revealed that all three fountain pens that were kept in that drawer were missing. Two weeks following the burglary of my apartment, I realized these three fountain pens were among the items stolen and my heart cracked, and the pain returned. For those who read these essays regularly, they will know from the previous essay that our apartment had been burglarized. [To read an account of the burglary, see From the Night Factory essay no. 28.]

Of the other two pens that shared the drawer with my Danitrio, one was unique, custom-made for me from lignum vitae by Chris Thompson. The pen was unmarked, although it possessed a Parker Duofold Centennial nib. The third was a Sailor Bamboo Susutake fountain pen. This oversized pen was made from a piece of bamboo that served as a roof tile for 100-150 years on a traditional house in Kyoto. The 21k nib was adjusted by the nibmeister Nobuyoshi Nagahara. Nagahara-sensei has since retired. I suspect the stolen pens will be dismantled and discarded, the gold nibs melted, and there will be one less Nagahara nib in the world. It particularly hurts because this Sailor pen was a gift from my ex-wife, with whom I am still friends.

The burglary took place on the 19th August 2013. The good news is the burglar, actually burglars, have been caught. I have been in touch with the detective who is handling the case, but I have been reluctant to bother him too often. Sadly, I am not the only victim of crimes and all criminals are not yet caught.

I had emailed the detective, "I would be very much interested in meeting with you for fifteen minutes or half an hour, to discuss my case. Perhaps you would allow me to buy you a beer. It is nothing serious, merely my own insatiable curiosity, and I would understand if you must decline for any reason." He never accepted my invitation. I can't say that I am surprised. Perhaps it is not allowed.

On the 5th September, the detective emailed me that he would be out of the area for five days, but that he had identified the woman who used the credit card belonging to Ms Keogh, my more significant other.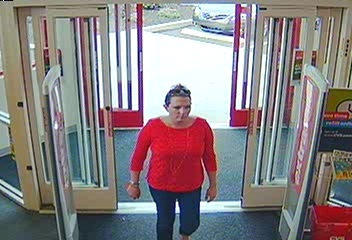 The burglar used to live in the neighborhood, which would explain how she knew her way around. The detective wrote, "I will be preparing and obtaining arrest warrants relating to the credit card fraud for her when I return next week. I need to interview her to prove that she committed the burglary." That wasn't exactly how her capture unfolded. The burglars were caught the very next day. I first learned of the news from a neighbor walking her dog.

On the 11th September, the detective wrote, "They were apprehended early Friday morning. They were interviewed by one of my co-workers and would not admit to burglarizing your residence. Although, it is very obvious that one or both of them did, considering the time frame. Unfortunately, that is not good enough to find them guilty of burglary beyond a reasonable doubt. However, the one female that was observed using your wife's credit card will be charged with several felony counts of Access Device Fraud in the near future."

Following this news, I had more questions and regret I probably made a further nuisance of myself. Were the two people in question a couple? Was it a smart ploy for them to deny burglarizing my apartment, that is to say was there some advantage to denying the burglary even though they were in possession of my wife's credit card minutes following the burglary? Why did they become criminals? The general consensus among my neighbors is that the couple must have been druggies.

I wanted to know what kind of people were the burglars if I were to meet them in a social gathering? Would I have found them charming or crude, intelligent or bewildering? Were they likeable despite the hurt they caused me and other strangers? What hope, if any, do I have of retrieving the stolen items; three fountain pens, three broken pocket watches, and one laptop? Ms Keogh pointed out to me that since I am a writer I want to talk about it, while the detective is working hard at other priorities and could not take the time to answer all my questions. So, I refrained from emailing the detective again.

I searched the local newspapers for mention of the arrest and found nothing. However, I found the following report, dated the day of the arrest, issued by the Lower Makefield Township Neighborhood Watch Association:

| | | |
| --- | --- | --- |
| | THEFT ARREST – 2200 block of Polo Run Dr. [two miles from where I live] reported at 1:40AM. Complainant reports observing a white female walk up to the vehicle with a flashlight and attempt to open the door. Victim startled the female who fled on foot with another white female and they entered a purple PT Cruiser. Vehicle was subsequently stopped on Rt. 1 by Middletown Township Police Department. The 31 year old female and 25 year old female from Philadelphia, PA were taken into custody for theft, receiving stolen property and loitering and prowling at night. They were sent to Bucks County Prison. | |
Meanwhile, I couldn't let go of the injury done to me, the loss of my irreplaceable pens. For this reason, I visited the Middletown Township Police Department and, as allowed by the Pennsylvania Right-to-Know Law, filled out a form to see the report of the burglary and the arrest.

A week later, I received a letter from the Township Manager informing me that my request has been denied pursuant to the Pennsylvania Right to Know Law Section 708 (b)(16). 708 (b) are the exceptions. (16) has many parts. Which parts are pertinent to me? One that stood out was, "(iii) A record that includes the identity of a confidential source or the identity of a suspect who has not been charged with an offense to whom confidentiality has been promised." But maybe more pertinent was, "(v) Victim information, including any information that would jeopardize the safety of the victim."

Then there was (vi), which is subdivided into five parts. "(A) Reveal the institution, progress or result of a criminal investigation, except the filing of criminal charges. (B) Deprive a person of the right to a fair trial or an impartial adjudication. (C) Impair the ability to locate a defendant or codefendant. (D) Hinder an agency's ability to secure an arrest, prosecution or conviction. (E) Endanger the life or physical safety of an individual." That last one - would my inquiries place me in danger?

I had hoped to learn where the burglars' lived. They didn't strike me as professionals, merely awkward opportunists. I suspected my pens were sitting in a drawer where one of the burglars lived, the pens waiting until it could be decided what to do with them. I had compiled a list of Philadelphia pawnbrokers and I wanted to reduce the number on my list to the most likely. My list had 35 pawnshops. The very morning of the day I planned to climb aboard my motorcycle and ride into Philadelphia to hunt for my fountain pens, the detective handling my case called. He spoke clearly and casually, a voice rich in friendship and intelligence. He talked me out of searching pawnshops. He explained the items might have been fenced and taken out of town. In the meantime, the police would have reports from the Philadelphia pawnshops of what had been acquired. Lastly, the detective impressed upon me that some of the pawnshops were in very dangerous neighborhoods. He was right, I had it in mind to visit pawnshops in Kensington for the very reason that it is Philadelphia's center for drugs.

My neighbors had guessed right, the two women burglars were heroin addicts on probation. We were all relieved they were in jail, even though the investigation continues. It was comforting that the neighbors could again trust one another. The detective said it was unclear if there was a third person, a male, or if one of the women had been mistaken for being male. The hearing could be two months away.

Most of my life I have wasted mental energy longing for things I didn't have, even things that would forever be out of my reach. Now I am content to believe I have everything I want. The burglary was a setback. Still, this story might not end here. It is enough to know the burglars were caught and imprisoned for any reason. It returns comfort to the community in which I live. Also, it is important to know how busy the Middletown Township Police are and how effective they have been. Middletown Township burglaries are down 62% from last year. Finally, I have ordered from John E. Brady of JEB's Pens a new custom-made fountain pen out of lignum vitae. It feels like it goes a long way to making amends and restoring balance to my universe. You can see the pen at the top of this page.


Mr Bentzman will continue to report here regularly about the events and concerns of his life. If you've any comments or suggestions, he would be pleased to hear from you.
Selected Suburban Soliloquies, the best of Mr Bentzman's earlier series of Snakeskin essays, is available as a book or as an ebook, from Amazon and elsewhere.