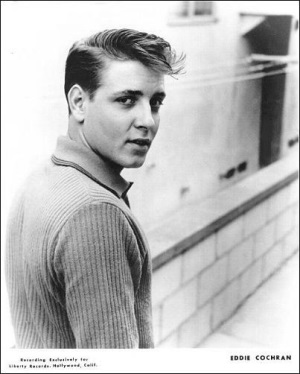 Come on

' – everybody, c'mon everybody!'
The boy who wooed dull Britain with his flair,
with his lopsided smile and perfect hair,
died, as I have always known, in Swindon.

Ice brought his friends down in a winter plane.
He did not want to tour, was almost through.
Then – ice again? I thought. No. Tyre blew.
So it was Chippenham? Not far from Swindon.

Eddie's guitar was cradled to his car
by a boy, too small to be a singer.
After the crash, a young policeman learned first
to strum, then ring its chord, to shock all Swindon.

So music lives. The boy, who threw himself
to save his girl, is gone. There is a plaque
behind the ward's old chapel, at the back.
In Swindon? Wrong again. It says here, Bath.

I heard the boy's voice when the ice-clouds blew
on the black glass, my kitchen hot with stew,
as I scrawled down the list that I must do:
'May 9th. Drive to the Festival. In Swindon'.

Alison Brackenbury

The poem's subject, the American singer, Eddie Cochran, died in 1960, aged 21.
His friends Buddy Holly and Ritchie Valens had died in a plane crash in the United States in 1959.
The British policeman mentioned in the poem was David Harrison (stage name, Dave Dee). The young fan in the poem also acquired a stage name: Marc Bolan. He, too, died in a car crash.

The poem's title and first line are gratefully borrowed from one of Eddie's songs.

If you have any comments on this poem, Alison Brackenbury would be pleased to hear from you.