Sutton Hoo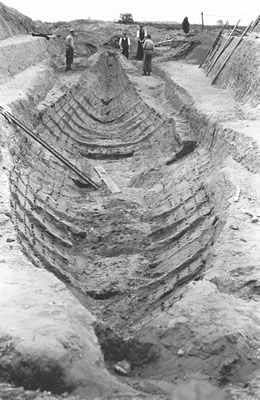 Since it had always puzzled her
what her lands brooded in green mounds
in empty days before the war
she wrote her brisk list: Mr Brown,
hired expert; her own gardener;
the gamekeeper, between his rounds.

'Dig the first trench,' called Mr Brown,
'until you reach the bed of sand.'
The gardener nodded. So the tomb
had grown from his fine silts? Unplanned,
he laid his best spade slowly down,
turned an iron rivet in his hand.

It was a ship. King Radwold slept
with his fine swordbelt on his back,
a gold clasp on his treetrunk chest,
his silver plates, for feasting, stacked.
Cleaned by the gardener's rags, they pressed
in moss, like perfect peaches, packed.

The scholars came in chugging cars.
This was the King who left Christ's fold.
The keeper left, to sink his jars,
hoped for his cut if plate was sold.
The mound rose silent, carved by scars.
The landowner felt briefly old.

The gardener scraped both workboots clean,
surveyed the jobs which lay before.
Unpruned buds weighed her favourite vine.
Six dozen leeks? He stretched up, sore,
watched sun join King; then, perfectly,
in fluent Anglo-Saxon, swore.

Alison Brackenbury

If you have any comments on this poem, Alison Brackenbury would be pleased to hear from you.