Victory in Europe, 1945

1.

EXHUMATION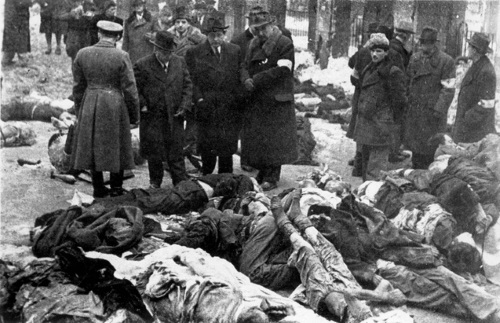 Victims of the Arrow Cross in the grounds of the Central Synagogue, Budapest, January 1945.

As most female corpses still
hide their features behind their shawls,

as their intertwined torsos and limbs
teach us about resurrection,

as one infant's small remains
reach to snuggle a woman's remains,

as that speechless jawbone still
nestles a baby's skull,

as the flesh decomposes, yet
these bones are bleached by the sunlight,

as that fallen mother's hand
recalls its endless, weightless chores –

thus the Eternal considers all
mass murders, each by each.


2.

FACES

Blessed be those whom I passed on the street,
those who beheld on my chest
the yellow Star of David,
those who were saddened by the sight,
those who walked on with heavy heart
burdened by shame; and blessed be also
those who chose to avert their faces
closed with fixed and frozen looks.


3.

MEMORIES

Like burnt grass, my life endures
after the hunger, strife and terror –
The sword, the pestilence retreat
though I remember... I remember.

I've survived the sight of the scorching
embers of stunning wickedness.
I need no evil fantasies
since I remember, I remember.

Skeletons tramping the ramparts of Babel.
I've emerged from bottomless depths
that hold my beloved, moaning dead
whom I remember, I remember.

Even my pursuing killers
share the sunshine, but still I freeze –
My gaunt and mighty angel soars
as I remember, I remember.

But I stop the chase and turn
facing up to my tormentors.
I am a gravemound: let them strike
while I remember, I remember.

I am homeless, with only a gate
hanging ajar to the lamentation
of bitter, hateful poverty
that I remember, I remember.

Here in the ruined autumn streets
shuffles a trembling, sightless beggar,
and I defer to him from afar
for I remember. I remember.
 
4.

THE STREET OF THE DEAD 



I walk along that street as though
nothing had occurred there,
I recall each face as though
the residents were still present,
I name the name of every soul,
from house to house I walk and call
my brothers who still live there,
together, beyond the present.

 
András Mezei
Translated from the Hungarian & Edited by Thomas Land

András Mezei (1930-2008), a foremost poet of the Hungarian Holocaust. More of his poetry in Thomas Ország-Land's English translation appears in Survivors and Christmas in Auschwitz (Smokestack, 2014 and 2010, respectively) and The 100 Years' War (Bloodaxe, 2014).


If you have any comments on this poem, Thomas Land would be pleased to hear from you.