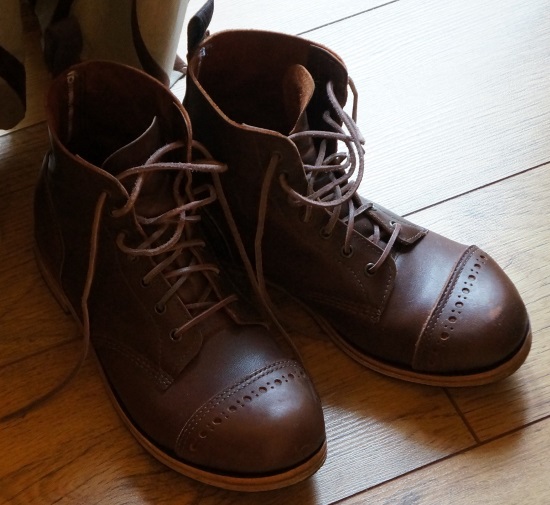 53. Boots

When I was a young man, I wore out my shoes in a measure of months. As an older man with a desk job and living in a suburban community tailored to automobiles, I took years to wear out my shoes. Even with years of wear, it was hard to discard a pair of old shoes, unless they were falling apart and lapping up mud and stones or causing me to trip. When the time came and we were finally immigrating to the United Kingdom to start life afresh, the shoes, like everything else, had to be sorted through. They were too many and too heavy for our self-imposed restriction of eight pieces of luggage. The two pairs of Allen Edmonds had to come, being expensive investments and very comfortable. A couple of other pairs of shoes would join them by virtue of being too new to forfeit. The patent leather Florsheims that I detested had to accompany the tuxedo for the formal dinners aboard the Queen Mary 2. Among the shoes I abandoned were every pair of boots, simply too big and heavy to lug.

To prevail upon me to accept the flat she preferred to rent, Ms Keogh, my more significant other, agreed that I would be allowed to have a bespoke suit, a dream of mine for many decades. I am not a fop. I am not fashionable. Friends who know me from the 60s and 70s could tell you that I wore jackets and vests over Oxford shirts, but from the waist down it has always been blue jeans and leather shoes if not boots. With regard to blue jeans, that has been lifelong. I was chastised in elementary school, in junior high and high school, for trying to wear blue jeans, which were never allowed by the dress code until the year after I graduated.

My father as a young man sported zoot suits and spats, but in the time I knew him, his interest in clothing was entirely from the point of view of an engineer; quality materials, pragmatic designs, and precision manufacture. I inherited this point of view, and similar to him, I do not like bright colors. Like my father, I cannot comfortably buy used clothes, but unlike my father, I preferred my clothes worn in and even slightly worn out.

My mother has a passion for clothing and brilliant originality. She has a great eye and should have had a career in design. She was never garish and valued accessories without it becoming ungapatchka. Her closet has never gone out of style, has always attracted admiring remarks. She also remembers every item of clothing she has ever owned, when she wore it, where she bought it, and how much it cost. I inherited none of this, except the desire that every important item of clothing should possess a story.

My preference has been for heavy clothes regardless of the season. I feel protection in weight. My friend Meg has known me since high school. She described my taste in clothing to Ms Keogh, "Get it in stone, he likes stone things."

While Ms Keogh was prepared to honor our agreement, allowing me to buy a bespoke suit, I could no longer insist on it. For one thing, the issue of my being allowed by UK Immigration to remain here could be unexpectedly costly. Need I say, bespoke suits are expensive. Another thing, although I hate to admit it, this flat is far better than the one I previously favored.

I decided I would satisfy our former agreement with bespoke boots. Well, not even exactly bespoke, but very close. I searched for British-made boots designed for long life and hard wear that could take me throughout Wales, from the Cambrian Mountains to the Llanelli Wetlands, along the Gower Coast and through the Grand Arcade of St David's Dewi Sant. Wales, especially Cardiff, suits me to a T and, instantly, I have been more comfortable here than any place I have ever lived. I found the boots I wanted being manufactured by William Lennon & Company Ltd.

An English firm in business since 1899, in the same location since 1904, and still family owned, William Lennon & Company manufacture the 78PTC Men's Traditional Leather Derby Boot. They are the last of the "heavy duty" boot manufacturers in the United Kingdom. It was love at first sight. It is a small company, squeezed into the stone village of Stoney Middleton in the Derbyshire Peak District. This once was a shoe and boot making center at the turn of the last century with only William Lennon & Company surviving. The boots are made in traditional ways, "Brass screwed and stitched construction incorporating a leather insole, a heavy duty triple leather sole and a leather heel…". Rough and rugged, for a century they have been manufactured for those who labored in the quarries and mines, worked the lime kilns and the foundries, and toiled on the farms. And now these boots are fashionable in Tokyo.

The Derby Boots are not bespoke, but neither are they stocked. One orders a boot and then waits six to eight weeks for it to be made. All they ask of you is your shoe size. Being a Yankee, I did not understand British or European shoe sizes. For that matter, experience has taught me that shoe sizes vary among different brands and some brands are too narrow for me. I didn't want to take a chance. I contacted the company. A response came from Libs Slattery, great granddaughter of William Lennon. It was suggested that I trace an outline of my foot on paper, but I had a different idea. Could I come in person to the factory?

It was September and Ms Keogh and I had not yet moved into our new flat, which was occupied by the previous tenant until nearly the end of the month. With a few weeks to fill, we visited and stayed first with Ms Keogh's oldest brother and then with her youngest. We also travelled in a rented car, Ms Keogh wanting to show me her homeland.

We bought a road atlas, preferring the romance of maps and charts to the too easy and unadventurous satnav. I did nearly all of the driving while Ms Keogh acted as nagrivator. We set off to the Highlands of Scotland by a circuitous route to explore every whimsy. However, we made an appointment to stop at the William Lennon factory en route.

Under stormy lumps of clouds and a vigorous wind, we wandered the twisting roads through the grassy inclines of the Derbyshire Peak District, a region of great beauty. Many of the sheep appeared to have been taking refuge, resting along the base of long stone walls. The steepness of the land explained the upturned toe on the William Lennon Shepherd's Boots; it was for climbing the hills with the sheep.

We reached Stoney Middleton, found the little lane named The Nook which led to The Bank, a side street. Not surprisingly, other writers and bloggers have made this same journey to find the bluish green door in the stone wall and write about it. They have also passed through this same door into this converted old corn mill built of limestones over the Dale Brook. Libs Slattery might not hear you knock. The door is heavy and it felt locked. I called Ms Slattery on my mobile phone and she explained the door required a heavy duty push.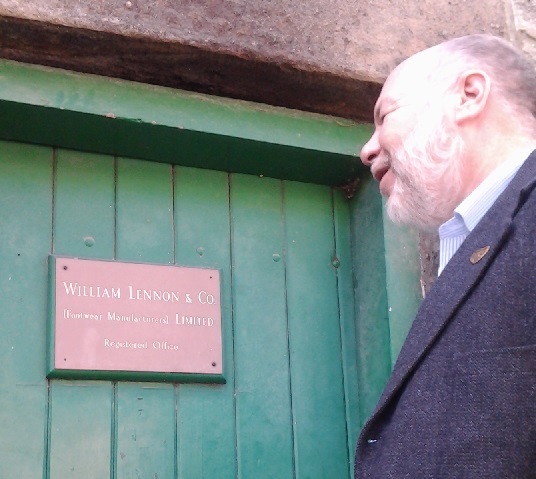 The gracious Ms Slattery gave us a tour, leading us through a maze of stairs and offices to reach the further part of the building, the factory. It had the smell of lubricant and leather, and the faint odor of an abandoned stable. This large room housed antiquated machines, belts and wheels, and a clutter of tools and ingredients sprawling across tables and deep windowsills. In various places boots or shoes or their parts were stored on shelves or in bins. About a half a dozen craftsmen were employed, each specializing in a stage of construction. It was a delight to see the pleasure and care they took in casual labor; they enjoyed their work.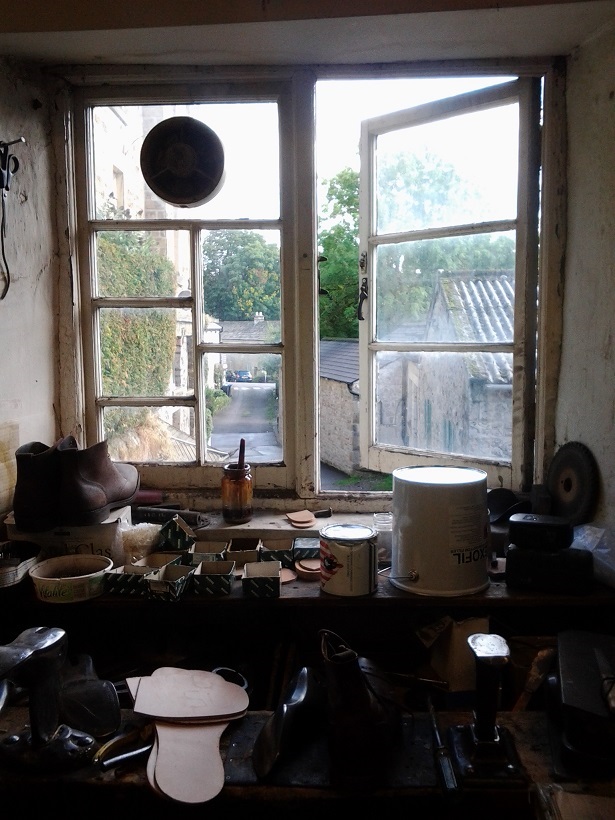 With the short tour finished, as we didn't want to disrupt activity with our presence, we got down to the business of determining what size shoe would best fit me. Ms Slattery found pairs of boots for me to try. We soon had the right size. The right size, but it was a bit tight across the widest part of my foot. This was noted and, while they didn't have a last that represented my foot exactly, it was promised that they could widen the boot slightly in that area during the manufacture.

And it was done. The boots arrived in a plain box, in a plain wrap, two weeks ago. I put on two pairs of socks – to prevent blisters during the break-in period – and took my boots for a walk. Tractor tough, but hard with newness, in time they will soften and form to my feet. I will add stories to the ones these boots already came with, those being the Derbyshire Peak District, the old limestone corn mill with the bluish-green door, the friendly and helpful Libs Slattery, the archaic machinery. Longer walks will wait until the leather softens, but already these boots have served me on new adventures, such as exploring the cluster of bookshops in the narrow lanes of Hay-on-Wye.


Mr Bentzman will continue to report here regularly about the events and concerns of his life. If you've any comments or suggestions, he would be pleased to hear from you.
Selected Suburban Soliloquies, the best of Mr Bentzman's earlier series of Snakeskin essays, is available as a book or as an ebook, from Amazon and elsewhere.