Silence, Silence...


Translations of five short poems by András Mezei

1.
Tumbrils

These two-wheeled tumbrils are not for milkchurns
nor for Tobias the milkman,
nor for the fruit
of the Indian summer,
ripe apricots, melons and apples on the canvas,
nor whistles, nor spinning-tops,
hairpins and bras,
nor labourers' shirts,
nor sewing-cottons, nor buttons nor boots.
These whining tumbrils
that bump along slowly
the desolate back-streets
carry no fleece-wool nor rags, nor goose feathers.
The peddlers do not sing.
Soft Kaddish and silence,
silence, silence,
lament behind them.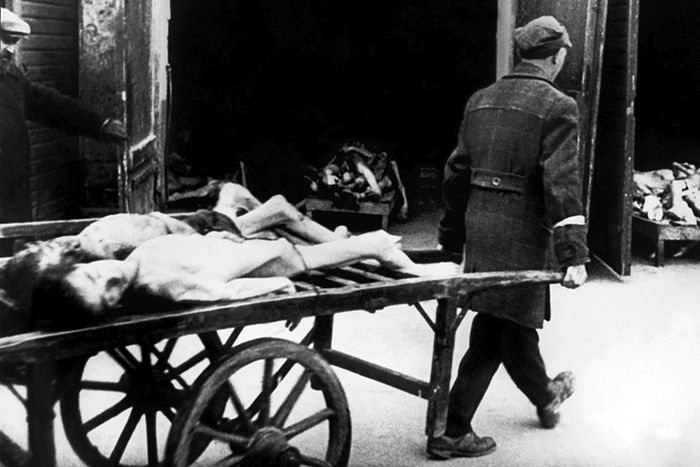 Ghetto Funeral, 1944

2.
His Own Command

He prescribed a frostbite ointment
for the sore foot of the guardsman.
And he still explained on the way
which chemist could supply it that day
under the rules of the early siege
of Budapest, as the soldier limped
along with him towards the place
of execution. The Jewish doctor
obeyed his own command.


3.
Hunger: The Facts

The skin turns bluish white.
The nails bend into claws.
The eyelids swell, and liquid
oozes from the tissues
beneath the skin and moistens
the swollen legs or hands
upon the lightest touch.
A coarse and wiry pelt
covers the body all over.
The eyelashes strangely lengthen
while, like a moth that nears the flame,
the victim slowly approaches
the ultimate transformation.

The skin turns deathly pale,
the arms, the legs, the torso
are bloated and the brain
becomes soft and dilated.
The heart has shrunk, already
it's smaller than its owner's fist.

The victim's daily diet
comprised 300 grams of soup
and 60 grams of bread.

4.
Hiding

Inside, a baby crying. Outside, the search,
the trampling boots. The fugitives petrified.
Then someone hands a pillow to the mother.
The babe falls silent, silent. Silent!

5.
The Scale

Measured under Mengele's scale,
Peter stretched and strained but hardly
reached the string with the top of his head.
Béla failed and trod on regardless.
Tiny Árpi was led to the gas
still on tiptoes. The tallest among them
had to raise the string of death
over his head to get past the scale
and accompany the frightened
children, beneath the Eternal's gaze.

András Mezei
Translated by Thomas Land


If you have any comments on these poems, Thomas Land would be pleased to hear from you.

András Mezei (1930-2008) was a major poet of the Hungarian Holocaust. More of his poetry in Thomas Land's English translation has just been published in Too Much Toothache: The Malaise of Modern Poetry by Alan Dent (The Penniless Press) and Translating the Poetry of the Holocaust: Translation, Style and the Reader by Jean Boase-Beier (Bloomsbury), both in England in 2015.