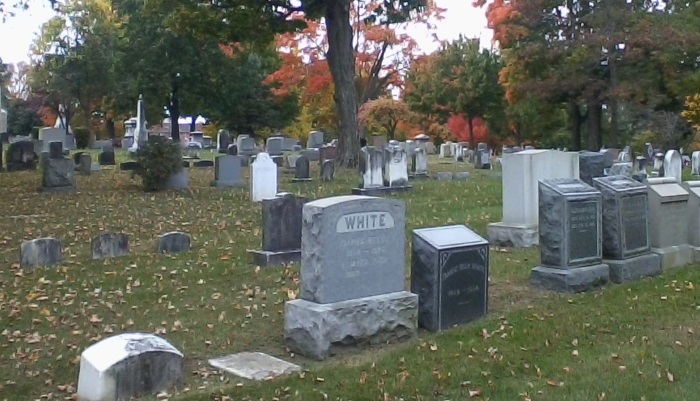 Doylestown Cemetery



62. A Letter from Exile

Since the fifth of October, my application, letters of support, and my USA passport have been waiting attention at UK Visas and Immigration in Sheffield, England. Meantime, I sojourn in a rooming house in Doylestown, Pennsylvania. It has been more than three weeks and I haven't heard anything from them about the status of my request, which is to have permission to return to the UK and live in my apartment in Cardiff, Wales.

I would never deny that Doylestown, Pennsylvania is beautiful in the autumn. Doylestown is the county seat of Bucks, named by William Penn for the Buckinghamshire he left behind in England. The countryside surrounding Doylestown was more beautiful fifty-five years ago, when my father first brought our family here. The quilted landscape of farms and forests have receded, further scarred by stretching roadways and spreading malls and housing developments. Still, Doylestown at its center has remained quaint and comfortable, has bounced back several times from depressing economies and competition with Philadelphia's growing suburbs. The citizens of Doylestown resisted demolition of their historic buildings. They have been restored and rejuvenated.

I have taken a room on the second floor of a rooming house with Ms Keogh, my cherished companion of thirty-three years. It is a large, redbrick house with veranda, built in 1813. This is the home of Frederic and Lisa Leleu, an attractive couple who emit warmth and welcome. They live on the third floor and run a business on the ground floor, Lisa LeLeu Studios. They formerly operated a gallery in this house and it remains filled with appealing works of art.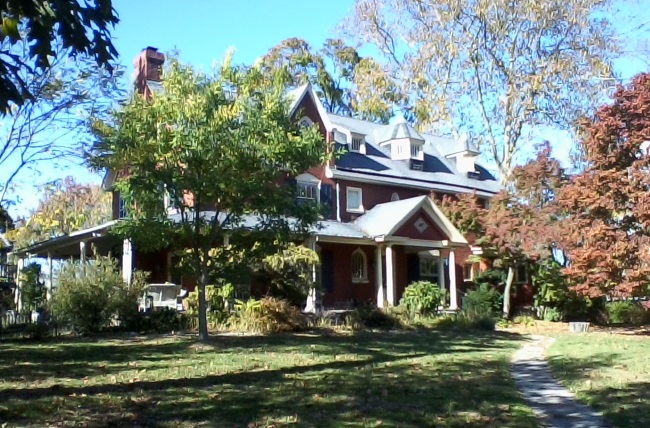 The Leleu house

The uneven sidewalks of Doylestown are both old and new. They change composition every few feet. There are bars that resemble pubs. There are cafes and restaurants. For such a small town there are at least two bookstores that I know of. The town's center is defined by a crossroad where William Doyle built a tavern in 1758. The Fountain House still stands and is occupied by a Starbucks. Ms Keogh and I had at one time considered living in Doylestown, a little haven in a bustling world. My childhood friend, Joel, is living here now.

I have known Joel since Mr Whalen's fifth grade class at Samuel Everitt Elementary School, a short walk from both our suburban homes. The school closed last year. Yesterday, Joel staggered over with his friend Joan to visit. In 1983, Joel was in a head-on collision with a drunk driver. The other driver was travelling at ninety miles per hour. The drunk and his passenger died. They needed the Jaws of Life, a hydraulic apparatus used by rescuers, to pry open what remained of Joel's crushed car and were astonished to find him alive, but not conscious. He remained in a coma for two months followed by rehabilitation for seven more. Joel had stayed at the Leleu house when he first came to Doylestown.

Joel is well-known in the community, seen during his frequent walks challenged by ataxia. He is well liked, a social creature, exceedingly friendly and humorous. Here he was, sitting with Joan at the tiny table in my room sporting a grey fedora. I sat on the adjacent bed playing with his cane. (Ms Keogh was away, shopping in Princeton.) While I missed the life I enjoyed in Cardiff, and no place is more comfortable for me than my apartment on the Hayes, yet Doylestown, crowded with deciduous trees, is not a bad place to be in autumn sitting with an old friend.

I told Joan the story of how Joel and I went to visit his parents when we were in our late thirties. Since Joel couldn't drive anymore, he availed himself of my generous spirit to save him a train trip. His parents were retired and had moved into an apartment in Philadelphia. I have always liked Sol and Ruth. As a teen, I had a crush on Ruth.

As we came in the door, we were greeted by his mother Ruth. Sol, his father, chose to remain seated engaged with a newspaper. He turned his head to say hello, then went back to his reading. Ruth played the host. "Would you like some milk and cookies?" she asked. I laughed. She couldn't understand why. I suggested she might offer me a drink, something along the lines of a beer or whisky. She was startled, but at this point Sol began to laugh, too. He climbed out of his chair to greet me again, this time with a handshake. Then he poured me a Scotch.

Joel said I should tell that story in my next essay, and so I have. Sol is gone now. Ruth still lives independently in Philadelphia at age ninety-nine. Joel and Joan visited for only half an hour as I had somewhere else to be. It was a brief diversion.

It is my philosophy to live in the moment, to squeeze out of every moment what it has to offer and to appreciate it. It is a way of life I continually fail to achieve. I don't miss Wales when a friend visits, nor when I accompany Ms Keogh to Friday night Scrabble at Classic Books in Trenton, nor when I go for a walk in the woods or the cemetery. I enjoy cemeteries. They can be gardens and the sculptured stones tell stories. Not to the extent of Trajan's Column or the alabaster reliefs covered in cuneiform from the reign of Ashurnasirpal II, King of Assyria, yet a descendant of that practice in a language I can read. Still, when I'm not distracted, I think of Wales, of Cardiff, of my friends at The Packet playing Quiz Night without me.

Now to distract myself again. Ms Keogh is already asleep, aided by a recording of rain. In this small room, I don't want the light to disturb her. The black keyboard is hard to see. Sometimes, I must turn on the flashlight and hold it in my mouth. That my cherished companion is here rescues me from acute depression and morbidity. She remains my homeland.




Mr Bentzman will continue to report here regularly about the events and concerns of his life. If you've any comments or suggestions, he would be pleased to hear from you.
Selected Suburban Soliloquies, the best of Mr Bentzman's earlier series of Snakeskin essays, is available as a book or as an ebook, from Amazon and elsewhere.