83. Of Bookshops and Libraries

It took a second trip to Paris before I fully understood that "librairie" is French for "bookshop". I had crossed the Place de la Sorbonne from my hotel to the Librairie Philosophique J. Vrin. Entering this clean and brightly lit shop, I was awed with the romance and shamed by my poverty of intellect. I cannot speak or read French. I could discern enough similarities with English to recognize the great names on spines and covers, but could only dream how exciting these rooms would be if I were smarter. I bought very little in Paris to take home with me as mementos, just two things. One of them was a tote bag from Librairie philosophique J. Vrin. (The other was a bottle of ink from Mélodies Graphiques, the kind of shop I fantasized finding and lo and behold.)

Bookshops of every size, kind, and specialty, are crowded into the Latin Quarter, as if to feed the Universités de Paris, and all of them inaccessible to me by no fault of theirs. I pressed my nose against the windows of Livres Anciens et Modernes, the shop sparing me temptation by being closed. Unsurprisingly, I found my way to Shakespeare and Company.

What fun! I squeezed through the narrow catacombs of Shakespeare and Company, lined with bookcases against stone walls, to make sure I visited every chamber. Throughout messages were posted. On the riser of a staircase it read, "Live for Humanity." Above an entry those famous words associated to the shop, all in majuscule, "Be not inhospitable to strangers lest they be angels in disguise." There was even a printed message posted above a sleeping cat.

"Aggie the Cat was up all night reading… please let her sleep! Please do not feed Aggie. Special diet. Do not touch." She was a small cat with dark brown and black striations. She inhabited that room's best chair. Was she so dependable they could post a sign above her? She didn't move. Since no photos are permitted inside the bookshop, probably because they want you to buy the postcards, I sat down on the piano stool and began to sketch her. It wasn't very good. And then she moved.

The reason I didn't buy any books from Shakespeare and Company? Well, really, books are heavy and why should I bother lugging books back to Cardiff, Wales? Besides, there were no books there that couldn't be found at home. In addition to this, I felt a certain loyalty to my favorite Cardiff bookshop, Troutmark Books.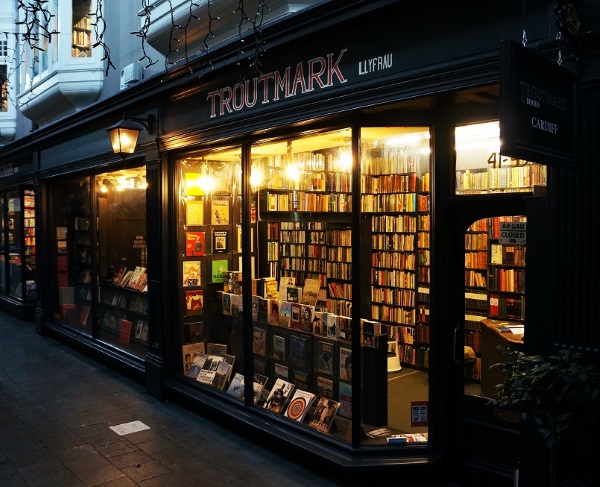 Troutmark Books is a used bookstore wedged into the shops that line the Castle Arcade. It consists of three stories, each packed with black painted bookshelves from floor to ceiling and they are crammed with books. The highest are out of reach and the lowest are a strain for this old man to stoop. You find on the ground floor, fiction, crime, children's books, first editions, rare, and The Folio Society. In the windowless cellar are tucked politics, gardens, histories, references, Welsh themes and language, and books on trains. Climb to the top floor and there is science fiction, fantasy, horror, comics, and celebrity biographies.

Troutmark Books belongs to Ceri Rogers. He launched it not knowing the empty space had been a bookshop long before. The indomitable Beti Rhys (1907-2003), a school teacher, had launched the original bookshop in 1950 with money borrowed from friends. It was the University Bookshop then, specializing in Welsh language and university textbooks. Ms Rhys was a champion of the Welsh language. Her bookstore became the mecca for literary and political figures, including a visit from Dylan Thomas, who, she remembered, examined the shop closely, but didn't buy anything.

As for Troutmark Books' unique name, Mr Rogers was first going to name it Troutmask, after Captain Beefheart's album Troutmask Replica. But his final preference became Troutmark Books because his brother's name is Mark. It is not the biggest bookstore, but I would be surprised if you couldn't find something you would want.

One cannot own all the books they desire. For that we have libraries. But I have been disappointed with the public libraries of Cardiff. A one minute walk from my flat brings me to the Old Library, dignified, stately, ornate, embellished with the symbols and statuary of reading and writing. It satisfies my book sentimentality, but it is a library no more. This beautiful building from the 19th century is planted at the northern end of The Hayes. The symbols carved into its masonry signifying literature are relics. At the top of the south side rises the bust of Athena/Minerva staring south down The Hayes to where the new library has sprouted.

The new library is also a one minute walk from my flat. Before it stands a giant sculpture, a hoop and needle, created by Jean-Bernard Métais and titled Alliance. The hoop contains a glowing liquid that is meant to rise and fall with the tides in Bristol Channel, but I've never seen it working in the time I've lived here.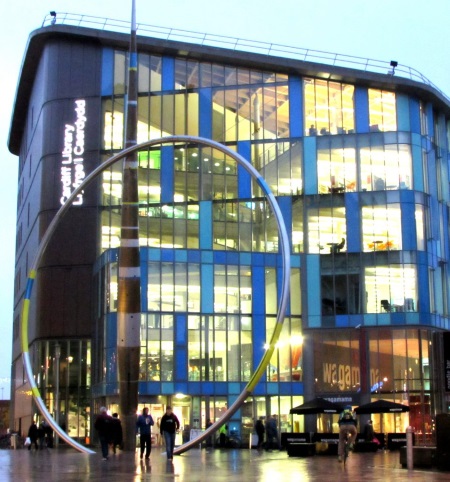 The fascinating, contemporary building behind the sculpture has an atrium webbed with staircases and zigzagging bridges. The floors are like shelves, but the immense space contrasts with the library's collection of books making the collection appear paltry. I have been unable to find many of the books I sought, resulting in having to buy them from Troutmark Books or online. To serve as one example, I was unable to find in the Cardiff Central Library or its branches The Autobiography of a Seaman by Admiral Thomas Cochrane. He was one of Britain's greatest heroes and the model for Captain Jack Aubrey in Patrick O'Brian's brilliant Aubrey–Maturin series. You'd think every British library ought to possess one copy.

There is public access to the university libraries during regular hours when they are staffed. Moreover, there is a CLIC membership [Cardiff: Libraries in Cooperation] which allows further access for those of us who are studying, living, or working in Cardiff. This includes access to the university's libraries that are opened 24 hours a day, seven days a week, such as the Arts and Social Studies Library. I regard this as truly amazing. I acquired my CLIC card this afternoon.

I love libraries and bookshops. When I visit a person for the first time, I look for their bookshelves and feel disappointed if they are not in plain sight or missing altogether. I attempt to know my hosts by the books they keep. Disgracefully, I might even judge them.



Mr Bentzman will continue to report here regularly about the events and concerns of his life. If you've any comments or suggestions, he would be pleased to hear from you.
Selected Suburban Soliloquies, the best of Mr Bentzman's earlier series of Snakeskin essays, is available as a book or as an ebook, from Amazon and elsewhere.