Unforgotten Realms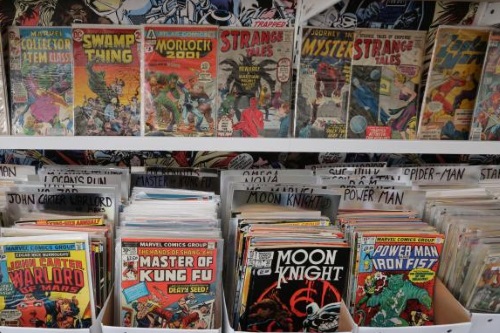 I fell for you one 90's summer night
On Campus-town's East Green and Fifth streets. New
To central Illinois, I walked amidst
The union shops and local nooks, displaced
From both the boy I'd followed here as well
As Windy City's metrocentric glitz.

I noticed you unwittingly—no glitz
Nor sign adorned your window front. That night,
Maturity and recklessness still well
At odds in me, I'd searched for someplace new
To ease my incongruity. Displaced
Scholastic texts I'd left unpacked amidst

The recent move besieged my mind. Amidst
These thoughts, regrets that I'd let passion's glitz
Obliterate my college aims displaced
My calm. But kismet drove my steps that night
Toward you: a comic book boutique. Your new
Releases, vintage strips, and manga well-

Consoled me, so I paid your owner well
Beyond my means to lose myself amidst
The Sandman's Dreaming, Dawn's dystopic New
York streets, and biker Vamps' Las Vegas glitz.
I sought your refuge daily, 'til the night
That pre-term labor's agonies displaced

All else. I laid in clinic care, displaced
From both my sightless, ill-starred child as well
As any want to live. I wished at night
That providence could intercede amidst
Fate's cruelty, but grace proved merely glitz—
Not gold. I left the ward alone. How new

East Green and Fifth Streets seemed, awash in new
September rain when I returned—displaced
Once more from peace. With neither guile nor glitz,
Your owner gruffly asked if all was well.
And somehow, as I stood transfixed amidst
Your comic books—it almost was that night.

No common store could quell new grief so well.
Much more than fiction-peddling glitz amidst
Displaced despair, you felt like home that night.

Mindy Watson

If you have any thoughts on this poem, Mindy Watson would be pleased to hear them.