Bold as Brass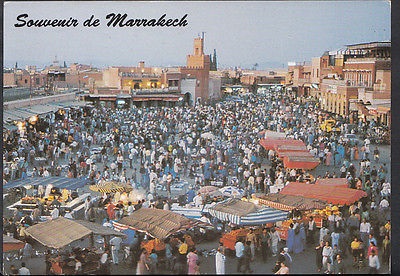 They employ hand-in-hand couple conceit
but we double-take her buttock-cleaving leotard,
gossamer gold-Lamé dress, fringe-flirting her thighs,
stilettos with bondage-thick ankle straps,
and recognise a working girl's universal uniform.

He is naughty-boy head-bowed in black jeans and tee
as if wearing his own shadow.
But the midday Marrakesh sun super-trouper lights them,
as she leads him towards apartment block that
three-wise-monkeys such carryings on.

We have not strayed into Marrakesh Soho, rather
Marrakesh Harley Street with clinics chic as boutique hotels;
and on bourgeois boulevard only finger-wagging
is practiced by old boys in local café who over
potent coffee debate politics or football.

And young women piloting scooters in modesty leggings,
tunics, headdresses do not camel-spit as they pass the pair;
neither do head-to-toe prim matrons
commanding four-wheels drives
pull up and goose-hiss warn them away.

The internet informs us that year-round supply of lads on
'What happens in Marrakesh stays in Marrakesh' jollies,
draws girls from all over the continent to exploit
their own youth and beauty assets. My 'Go sisters!' chuckle
when I learn that free from pimp pressure,

these girls are self-employed; fetish shoes and bold stares
their business cards, silk as salesman they schmooze
prospects in night clubs, gardens, shopping malls,
touting for a couple of hours work
that rewards with live-for-now lifestyle.

Some are savvy though, invest in education, training;
fall-back against time when their stock plummets as
assets are age-stripped. I avert my thoughts
from the horror of ending days as middle-aged molls
haunting Medina alleys like feral cats.

Fiona Sinclair


If you have any thoughts on this poem, Fiona Sinclair would be pleased to hear them.