99. The Reading Chair

It wasn't until this last November that I finally contacted Leather Chairs of Bath, where since 1988 Nick and Sara Loxton have been making hand-dyed leather furniture as a family business.

I explained to Mr Loxton that I had visited his shop in Bath two or three years ago, when the firm briefly occupied a shop in York Street. Ms Keogh, my cherished companion, was still alive and we had joined a large contingent of her extended family to visit the Roman baths.

The parade of Keoghs marched past the show window of Loxton's shop, but I couldn't, and became fixed to the pavement. Ms Keogh said, "Alright, let's go in. We can catch up with the family." This was the style of furniture I was drawn to, the kind I envisioned in traditional men's clubs and the private libraries of stately homes. Expensive! "Someday," I muttered, and Ms Keogh responded, "Yes, someday."

So in November of last year, I emailed Mr Loxton asking if they used full-grain leather and vegetable tanning. He assured me they did.

We swapped images. I showed him the perfect chair, an image I found online, and he sent me a comparable image of a chair they made. The differences were few. The ideal had four claw and ball legs, but their chair had them only on the front, which is actually the more usual for this style. I had other concerns. Mr Loxton wrote, "I can make adjustments to both those concerns. We can firm up the seat cushion and we can tweak the leather to be less shiny, although it tends to head that way with use over time."

What better place from which to procure a wingback chair than England. It was an English invention of the 17th century. From a high back, wings extended out along the chair's arms to enclose the occupant, protecting them from draughts when sitting before the fireplace. It isn't draughts that concern me, and my apartment does not have a fireplace. It has heated floors. Still, I would enjoy the chair's sheltering effect and how it would isolate and focus my attention on the book before me.

Twenty-nine years ago, Ms Keogh and I had a three-bedroom house in the suburbs of Philadelphia. My son's bedroom became available and I quickly converted it into a study. My desk and bookcases, formerly in the far end of the living room, were moved into the study. There were no other chairs than my desk chair. Guests had no place to sit. Ms Keogh had no place to sit. It was decided a chair was needed.

We came across my first reading chair by destiny. We were browsing the clearance corner of the furniture section of the now defunct Strawbridge & Clothier department store. It was a Queen Anne style wingback chair, upholstered in red fabric patterned with yellow fans. It wasn't tufted and it wasn't leather, but it was affordable.

That chair stayed with the house when Ms Keogh and I moved to a two-bedroom apartment. It was the last month of 2010 and I had just retired. Our daughter moved into the house with her family. We bought all new furniture for the apartment. I bought a new reading chair. The Thomasville Maynard Wing Chair came with a choice of different colored leathers. I selected the closest they had to brown, which they called Cognac.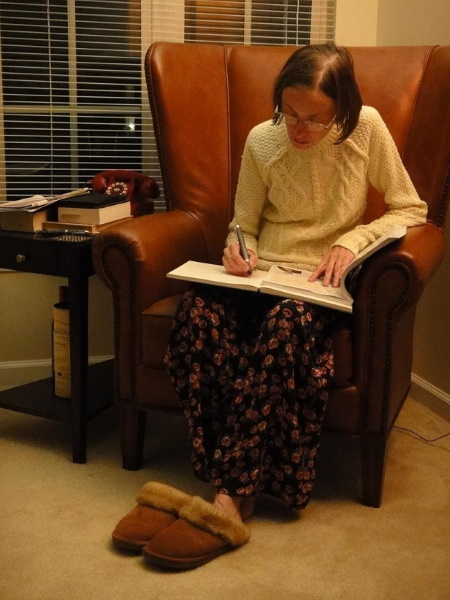 Ms Keogh in the second reading chair.

We converted the smaller second bedroom into my study, a guest-room when we had guests. It was too small for the reading chair. The chair stayed in the living room and I read there.

It was time to move again, this time across the Atlantic to live in Wales. We didn't take any of our new furniture. Our daughter acquired what we had and we moved into a furnished apartment in Cardiff.

Here I am, still living in Cardiff, in an apartment my cherished companion has never known. I will never return to the United States. This city suits me. The Welsh have been welcoming and tolerant. I have never been happier with where I lived. Of course, I would be happier still if my cherished companion were with me.

How was I to justify the expense of a bespoke chair? In the last year of Ms Keogh's life, I bought her everything she asked for because we knew she was dying. Alone, I could not at first bring myself to purchase the single most expensive piece of furniture I have ever bought, three times the price of my previous reading chair.

I wavered before committing myself. Then I considered how much life remained to me. Why postpone what I could be enjoying in the remaining time? Besides, I was never again buying a car. Journeys would more frequently be through books. I needed a chair that would form a happy nest in which I could posit myself and travel pages instead of miles. In November, I ordered that chair.

I waited four months. Friends kept asking me when it would arrive, but I never cared to contact Mr Loxton. I didn't want it rushed. I wanted it done perfectly. It arrived in the first week of March, five days before my birthday, a birthday gift; five days before my wedding anniversary, an anniversary gift. Ms Keogh and I were married on my birthday. Mr Loxton himself delivered the Georgian Wingback chair upholstered in tufted brown leather. I tried out the reading chair and it works! It came the same week I took delivery of my new high fidelity audio system. It was all in place in time to confront the COVID-19 pandemic. Here I am, sheltering in my apartment during lockdown, thriving, with an enjoyable life. It was fortuitous. My reading chair beckons.


Mr Bentzman will continue to report here regularly about the events and concerns of his life. If you've any comments or suggestions, he would be pleased to hear from you.
You can find his several books at www.Bentzman.com. Enshrined Inside Me, his second collection of essays, is now available to purchase.