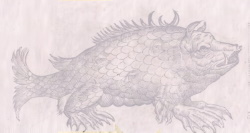 Cryptozoology
---

Leeds Devil

I was the last of thirteen, born
with two club feet. I walked
like the front half of a goat.
The other kids would sit me down
in the sugar sand and tell me
to eat it. Every time, I thought
it would be sweet. It was a bad
joke to call me a ghost before
I was even dead. I used to put on
my father's old coat and sprout
wings, to feel hidden and free.
Now I fly the Pine Barrens at night,
to prove we are all the same, creatures
who want to thrill each other to death.


Kathleen Kirk




Kathleen Kirk won an adorable "Yeti to Read" mug for participating in her library's reading program!
She blogs about reading and poetry at Wait! I Have a Blog?! , where you can contact her at kkirkpoet@gmail.com.