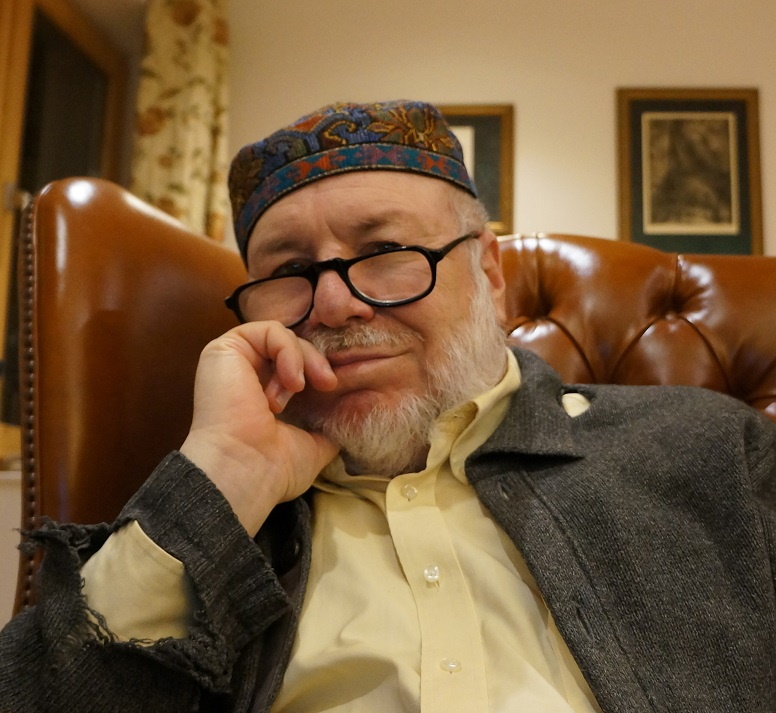 Mr Bentzman, wearing the Yaket.
107. The Yaket

Hanging among the sweaters was one that was a beautiful slate grey. It was the only one of its kind on the long rack with others that were flashy or decorated with colorful designs. Drawn to it and no other, I touched it and it was uncommonly soft. I checked the label to see if it was 100% wool and it was not. It was 100% Himalayan yak. Sixty dollars, if I remember correctly. It was a bit high compared to the other sweaters on sale in that discount store. I checked the size and it was, most unfortunately, a large. I needed an extra large.

I rejoined Ms Keogh sifting through women's wear. This is when Ms Keogh, my cherished companion, was still alive and we were living in Pennsylvania. "Did you find a sweater you like?" she asked.

"Yes."

"And was it grey?"

"Yes."

"And a cardigan?"

"Yes."

"Are you buying it?"

"No, but I gotta show it to you." I led her over to the men's sweaters. When she touched it, she declared it wonderful. I explained to her it was yak hair.

She looked at the price and said, "For something this nice, you should buy it. It is exactly what you wanted." That's when I showed her the size. "Try it on anyway. You never know." I did and it fit. Oh, maybe a trifle tight, but as Ms Keogh said, "It fits you fine and if you lost a wee bit of weight, it will fit you better. Meanwhile, it will probably stretch." We bought it.

The cardigan had a shirt-like collar and your hands would naturally migrate to the slash pockets. It was remarkably warm and the hair of the yak was not itchy. I sometimes wore it with just a T-shirt.

Technically, the yaket was mine, MINE!, but I was always having to take it back from Ms Keogh. It was she who invented the name "yaket". She would whine, or being British, she would whinge, but ultimately she would have to acknowledge my right to it. Besides, she had plenty of other sweaters, including the one her mother knitted for her AND the one her mother had knitted for me, which didn't fit me, especially after Ms Keogh washed it.

Being a very slender woman, as the days grew warmer and I was less likely to feel cold, Ms Keogh could wear the yaket more often without argument from me. Her pointy elbows eventually wore holes in MY yaket. That was why the yaket acquired leather patches on the elbows.

I had promised Ms Keogh that once I retired, I would return her home to Britain and her family. We arrived at Southampton in the end of August 2015 aboard the Queen Mary II with all our worldly possessions as could fit into our cabin. Before leaving Pennsylvania, we either sold or gave away all we owned. We were both in our sixties, yet prepared to start life over again. We arrived without sweaters. What was the point of taking up cabin space with sweaters when we could buy them again in Wales? But the yaket came with us. There are no yaks in Wales.

Ms Keogh suffered from chronic kidney failure. For over nineteen years she was dependent on a dialysis machine. Eventually, she had a successful kidney transplant which served her for a decade. The last few years before she died, she had to return to dialysis here in Cardiff. Dialysis machines take the blood from you and artificially do the job a kidney should, then return the blood without first warming it. She began wearing the yaket at dialysis. How could I deny her? There was an accident and the yaket became stained with blood. She wanted to have it dry cleaned, but we never got around to it.

After I lost her, I did take it to be dry cleaned to honor her wish, although I didn't feel it was necessary. It was her blood, so it never bothered me. It was difficult finding a dry cleaner. They are not as commonplace in Cardiff as they are in the United States. Also, because of the leather patches, it needed a special dry cleaner.

Just as Ms Keogh became fragile in her last years, so did the yaket. It developed gaping holes my hands would slip through before reaching the ends of the sleeves. I bought a new cardigan of merino wool that was thin, yet never wore it. It had an elegance which didn't reflect my nature. I gifted it to a friend.

I continued to wear the yaket until it hung from me in shreds. If I sat on a bench in the Hayes with my hat on my lap, people were likely to toss change into it. Keeping the yaket was becoming ridiculous.

A search online found me a replacement. No, it wasn't Himalayan yak hair, but more appropriately to my new home, it was knitted from the undyed wool of Black Welsh Mountain Sheep. It was chunky. I am chunky. I ordered it.

It arrived Election Day, Tuesday, 3rd November. This new cardigan has a shawl collar, patch pockets, leather buttons, which the yaket didn't have, and the smell of lanolin. I had been wearing the yaket, not just because I was cold, but because I had been anxious for weeks about the US elections. It was an idiosyncrasy of mine to wear the yaket, or my heavy flight jacket, whenever I was feeling insecure. Ms Keogh would laugh, but she understood.

The Saturday following Tuesday's election I was wearing the new cardigan. It was finally decided that Biden was ipso facto the next President. My friend Steve, a former foot soldier for the Labour Party, came over with a bottle of his best Scotch. It was the tiniest of celebrations, but heartfelt. I opened my best Scotch. We drank each other's Scotch and toasted President Elect Biden and Vice-President Elect Harris. We were generally quiet at first, exhausted from having lived through the anxious days leading up to that moment. After a few sips, the conversation came with ease.

"What did you decide to do with the yaket?" Steve asked.

I could not discard it. First, I thought I would store it. After I am dead, let others wonder why did he save this? They couldn't possibly know the memories that are woven into it – although maybe, if they've read this essay, they could begin to suspect. For the time being, it hangs on the bedpost on Ms Keogh's side of the bed.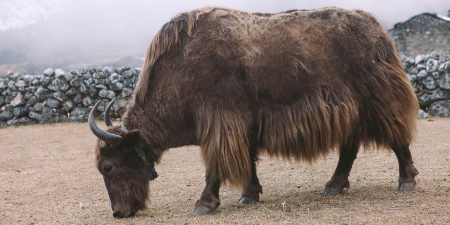 A Yak


Mr Bentzman will continue to report here regularly about the events and concerns of his life. If you've any comments or suggestions, he would be pleased to hear from you.
You can find his several books at www.Bentzman.com. Enshrined Inside Me, his second collection of essays, is now available to purchase.