116. Gregynog Press

Having inherited my father's collection of fine press books, I enlarged it considerably. I dreamed of retirement and sitting down to read the entire collection. It was not to be. When retirement arrived, and after waiting until our grandson graduated high school, I sold the collection to take Ms Keogh home to Great Britain, financing our voyage on the Queen Mary 2, and also the cost of my immigration. Three of Ms Keogh's four siblings lived in Great Britain, as well as her mother and stepmother.

Now living in Cardiff, I was determined to constrain the impulse to rebuild a fine press book collection, and to devote my income to Ms Keogh's happiness. Fine press books are too expensive. In fact, I intended to discipline myself into not buying any new book until I had read one of the books already on my shelves. Alas, I suffer from the compulsion of not being able to leave a bookshop empty-handed. Any restraint evaporated quickly.

On our first visit to the National Museum Cardiff, I was amused by what I regarded as a scaled down neoclassical building, the Metropolitan Museum of Art in miniature. But it was now our museum, local and impressive, containing the arts, the sciences, and artifacts of Welsh history and culture. When we walked into the Gwendoline and Margaret Davies Collection in the Center Block on the upper floor, I was astounded by the excellent collection of French Impressionists. The remarkable Davies sisters, who inherited their wealth from Rhondda Valley coal, remained unmarried teetotallers, yet not unsophisticated in their passion for knowledge and culture. There is a narrow space behind the wall at the gallery's end. Information about the sisters is collected there and, in a vitrine, was a book issued by the Gregynog Press [Gwasg Gregynog]. At the present time, the aforementioned galleries are closed as repairs are being made to the roof. Also, the Gregynog Press book that was on display has been temporarily removed – for the last two years.

Ms Keogh and I recognized the quality that went into the manufacture of the book on display. Years before, we both took lessons at the Center for Book Arts in Manhattan. Ms Keogh learned traditional bookbinding. I learned letterpress and setting type by hand. The Davies sisters had established their press in 1922, influenced by William Morris, the Arts and Crafts Movement he launched, and his earlier Kelmscott Press.

We learned that the Gregynog Press, which had closed in 1940, had since been resurrected. We were determined to visit the Press. With that objective in mind, Ms Keogh coerced me into securing the British driving licence sooner as opposed to later. I had my licence less than a month. We planned that first car trip destination to be the Gregynog Press, but during that planning my cherished companion died.

One day, when Ms Keogh and I were browsing Jacobs Antique Centre, formerly an old warehouse on the Glamorganshire Canal, now an antiques bazaar with three floors of stalls, I found a Gregynog Press book in Andrew's stall. Andrew, formerly the proprietor of the Capital Bookshop in Cardiff's Morgan Arcade, has since moved into Jacobs Antique Centre. Some days you can see him on the streets of the city, in a grey top hat, drumming up business traffic for the Antique Centre.

The book I found was Caneuon Ceiriog Detholiad. The pages were beautiful. It was illustrated with wood engravings and published in 1925, the press's third book. I showed it to Ms Keogh. She said I should buy it, but I didn't because the cover was in poor shape. Also, the book was in Welsh, a language I can neither speak nor read.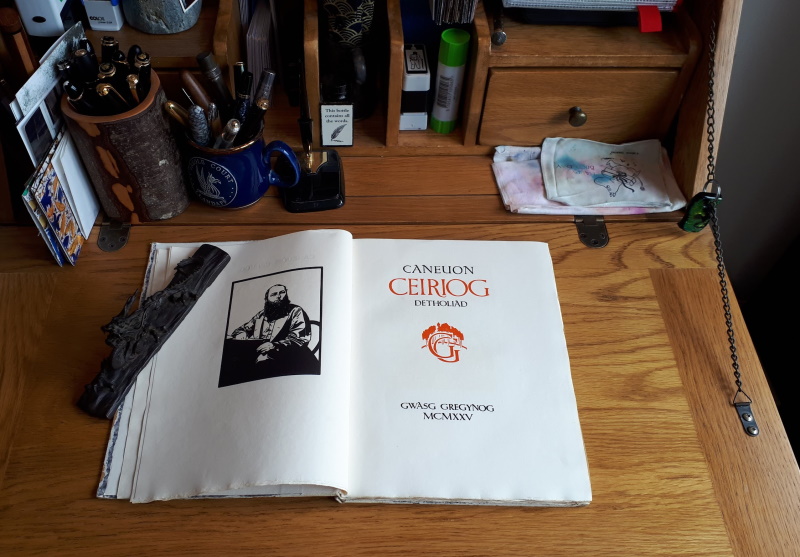 Two years after her death, I went back to buy the book. I intended to rescue it, to have it restored with a new binding. And then what? I had no idea. Still, I had decided this book was special, was significant to the history and culture of Wales. I was determined to finance this volume's resurrection as a labor of love for the land that has adopted me, to repay its kindness. Andrew was not at his stall and the book was missing from where it formerly resided. I concluded that someone else had bought it and I felt relieved, relieved that it was someone else's responsibility and I had been spared the costs.

So why did I go back to Jacobs Antique Centre and Andrew's book stall again? He still had the book. He had moved it into the locked bookcase. I bought it. Not a bargain, but a fair price.

The book desperately needs to be rebound. It could cost several times more than the book did. I had my heart set on Trevor Lloyd, a bookbinder in Ludlow whose shop I walked past several years ago. Lloyd is a great Welsh name appropriate for a Welsh book. Alas, in 2020, The Bindery Shop closed. I am waiting to hear back from the Gregynog Press if they can recommend a bookbinder.

Caneuon Ceiriog Detholiad translates to Selected Ceiriog Songs, the work of John Ceiriog Hughes (1832–1887), a Welsh poet. This Gregynog version was edited by John Lloyd-Jones (1885–1956), poet and first Professor of Welsh at the National University of Ireland in Dublin. Translating part of the colophon, it reads, "John Hugh Jones set it up, and John Mason did the press work. Robert Ashwin Maynard and Horace Walter Bray designed the text's embellishments, and carved them on wood." The typography is Frederic Goudy's Kennerley Old Style. I am a sucker for the diagonal bar in the lower case "e". The whole is printed on handmade paper and there are only 400 copies. The first 30 were bound in burgundy Morocco leather. We are instructed to not judge a book by its cover, but one of those first 30 will sell for thousands of dollars. Mine is number 393.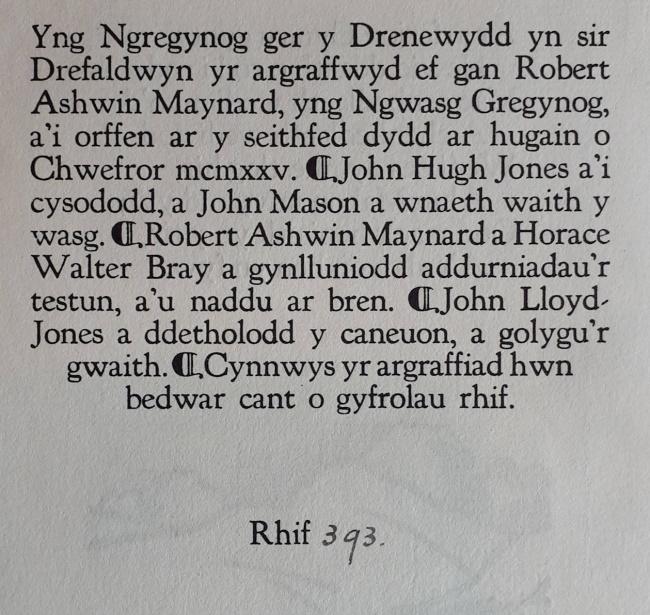 Mr Bentzman will continue to report here regularly about the events and concerns of his life. If you've any comments or suggestions, he would be pleased to hear from you.
You can find his several books at www.Bentzman.com. Enshrined Inside Me, his second collection of essays, is now available to purchase.