117. Every Day Ends Forever

There are some who might describe my friend Steve and me as bookish, but I have known people who read far more. Nonetheless, it is a label I enjoy having, even if I am not sure it is deserved. I had promised Steve that as soon as pandemic measures were eased, I would rent a car and take us to Hay-on-Wye. Steve doesn't drive.

Hay-on-Wye is a tiny Welsh market town pressed against the border of England. In 1961 or 1962 (depending on the source) Richard George William Pitt Booth opened the town's first second-hand bookshop in a former fire station, the first of several. By the 1970s, Hay-on-Wye became The Town of Books ‒ the first book town in the western world. At its peak, it contained over 30 bookshops, offering an estimated more than a million second-hand books. (The Strand, a single bookstore in Manhattan, holds over two million.) Today, despite the severe dent the internet has made to brick and mortar bookshops, there remain over 20 bookshops in Hay-on-Wye.

The day approached and it was time to reserve a rental. I don't own a car. Before selecting the appropriate vehicle, I decided to invite other friends, not wanting them to think they were being dismissed. Ann and Joyce love books, but couldn't schedule it. Ken and Brian are not bookish people and I did not think they would want to come. I was mistaken. Both Brian and Ken did want to join us, if only to enjoy a day's outing, a drive through the beautiful countryside of the Brecon Beacons, and to arrive at a charming destination.

Had it been only Steve and myself, I would have rented a small, economical car. As there were four of us, I decided to enhance the experience of the day and make it special, even for those not enthusiastic about books. I rented a C-Class Mercedes-Benz. On seeing the car for the first time, Ken was in awe and took several minutes admiring it. "Why?" he asked. We both knew a Ford compact would have done the job. I explained how I wanted to make sure the day was memorable for everybody and added, "Every day ends forever."

The weather obliged us. It didn't rain that day in Wales. It was a pretty day in Hay-on-Wye, a random array of narrow streets crushed by rows of stone buildings. We started at a sidewalk café, went zig-zagging our separate ways, occasionally crossing each other's paths, and joined together at the day's end at another café by the River Wye. Everyone had bought books but me.

Steve and Ken showed what they bagged on their successful hunts, but Brian refused. We assumed his bag held books destined to be our Christmas gifts. And I, who planned the entire safari, had nothing to show.

This was my third visit to Hay-on-Wye since arriving in Britain in 2015. After deserting my friends, the first shop I sought was Bartrums, a stationer. It is a corner shop in the heart of the town. It is worth a visit if only because of the presentation of their merchandise. Unlike your commonplace stationers, the goods aren't stocked on utilitarian shelves, as in a warehouse. Bartrums makes a presentation of the wonderful accoutrements that should appeal to a reader or writer. I especially urge the visitor to venture down the narrow stairs to a luxurious cellar, in which you will discover a treasure-trove of sumptuous fountain pens, exotic inks, and other related paraphernalia. Were it not that I already have too much of everything I need, the temptations were difficult to resist. I departed feeling guilty not having spent any money, if only in tribute. So, you should go and relieve me of this guilt.

I spent more time talking to the friendly proprietors of the bookshops than I did browsing their shelves. Because of the pandemic, one is obliged to wear a facemask. The mask caused my expensive reading glasses to slip from my head. They are half-glasses that have to be ordered from Texas and shipped to me via my sister in California, because they don't ship to the UK. I needed one hand to keep them mounted on my nose, and there they fogged until I couldn't read the book spines.

It was from a friendly bookshop proprietor that I learned there was a second bookbinder in Hay-on-Wye. I went in search of Christine Cleaton, the Hay Binders. It wasn't so much a shop as her cluttered atelier. It contained all the familiar ingredients of the trade folded into a small nest. I had to turn sideways to pass from the first room to the second. Into every cubbyhole that wasn't already filled with a bookbinder's tools or material, were personal photographs, mementos, and small objets d'art. It must have been a comfortable home for Christine to work in. I felt honored that I would be welcomed to such a personal space.

After we left the riverside café to return to the car, I was griping about everyone having bought books but me. We passed The Poetry Bookshop. As luck would have it, displayed in the window was a book I knew I wanted to have. It was Basho: The Complete Haiku, translated by Jane Reichhold. I was overjoyed and rushed into the shop to secure it.

On our way back to Cardiff, we stopped at the Tŷ Nant Pub. Everyone drank freely except me, the designated driver. We all decided we would have to come back to eat there, the food looking appealing. We all agreed it had been a splendid day from beginning to end. But I told my friends not to become accustomed to travelling in a Mercedes because next time, "I am renting a tiny econobox and we can all dress up as clowns."

Epilogue: At the conclusion of this long day, pleased to be back in my flat, I went to shelve the book I bought and found a copy already there. Now I own two.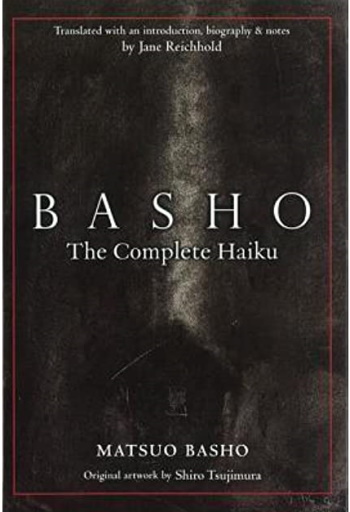 Mr Bentzman will continue to report here regularly about the events and concerns of his life. If you've any comments or suggestions, he would be pleased to hear from you.
You can find his several books at www.Bentzman.com. Enshrined Inside Me, his second collection of essays, is now available to purchase.