Willow Pattern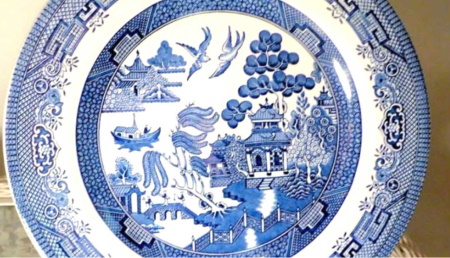 Town's edge. A lane. A bridge. A field
marched by the battered stumps of maize,
lit by hills, broad as the moon.
The cracks in April clay will yield
rich oyster shells to feed poor days;
pipes; pigs' skulls; best, we find soon,
smashed pottery. And most is blue,
slipped from quick hands, a child's, a maid's,
to floor. Were harsh words spoken?
I brush a latticed rim while you
scoop one white scrap whose two blue birds,
smudged lovers, soar unbroken.

Alison Brackenbury

In Victorian England, oysters were a cheap food.
The 'Willow pattern' on china depicts the story of two lovers, one rich, one poor. After death, the lovers are re-united as birds.

This poem will be in her new collection, Thorpeness,
to be published by Carcanet in February 2022.


If you have any thoughts on this poem,
Alison Brackenbury would be pleased to hear them.