125. A Gift from Sandi Toksvig

Brian knew I admired Sandi Toksvig. He bought tickets for himself and for me as his guest. That show was cancelled because of the pandemic. It wasn't until two years later that her postponed show finally arrived to Saint David's Hall in Cardiff. It was a new show titled, "Next Slide Please…".

Brian bought us front row center seats. Waiting for the show to start, I was telling Brian how I have never known him to buy seats in the first row. The first row is my thing, although it really depends on the kind of concert. The friendly woman on Brian's opposite side said we were in danger of being engaged by the performer. I said, I knew. This was an occasion when I would not have selected seats in the first row. I had avoided them when I bought tickets for my nephew and myself to see Stewart Lee. I will definitely avoid the front row if I ever have the opportunity to see Dara Ó Briain.

There was no announcement. Sandi came dashing out onto the stage announcing, "Here I am, here I am!" Reaching center stage, after a few brief remarks, she declared she needed someone else to properly announce her. She pointed at me and said, "You, darling, what's your name?" I told her. "Well, Bruce, you look like somebody whose voice would carry through the hall," and with that she asked if I could announce her.

"You've got to be kidding!" was my reply. She wasn't kidding. I tried offering up Brian for sacrifice. It was actually a bad idea. Brian is, by nature, a quiet talker. I often cannot hear him across a table. Brian refused and insisted it had to be me. I tried a different tact; "I can't, I have an accent."

"Where are you from?" she asked, then added, "Canada?"

"I was born in the Bronx."

Sandi pointed out that she also lived in New York. She lived ten years in Merrick, which is somewhere out on Long Island. In any case, my accent was no excuse and she seemed to have great confidence in me.

The words she would have me speak were simple enough. I have forgotten them, but they were something like, "Ladies and gentlemen, please welcome to the stage, Sandi Toksvig!" I could see her standing off stage waiting and signaling me. I didn't get up, merely turned in my seat to face the crowd and, in my loudest voice, announced her word-for-word as she had instructed. She came dashing back out to center stage. Later, I would kick myself for not ad-libbing, "please welcome to the stage the vibrant and brilliant raconteur, Sandi Toksvig!"

At the interval, Brian and I joined other friends, Joyce and Steve, at a table in the lounging area. Brian had arranged for us to have drinks waiting. We sat at the table discussing ME!

My friends were surprised that I had been reluctant to take on the assignment from Sandi. "You are hardly a shy one," Steve said. He thought he knew me so well. I am shy, and I suffer stage fright in particular, not to forget performance anxieties. That I don't seem shy is because shyness is an obstacle to living life fully. I constrain my shyness behind a locked door and try not to think about myself, or what others might be thinking of me if I can't detect it. If I did see myself, I would panic. This is an effort I must continually make, choking off my shyness and getting on with life.

Independent of me, they all agreed among themselves this would be the subject of my next Snakeskin essay. I differed with them; "No it would not be. It isn't enough of a story to stretch into even a short essay. The event was too brief." Such an essay would have ended here.

Sandi spoke about the importance of making friends. After we had returned to our seats for the second half, she elaborated on that importance. We are by nature social creatures. She wanted us to experience where we were and meet the people about us. She would have us appreciate the moment, the way all our destinies brought us together. We should note the time and place and activity, because it was unique and would not happen again.

She told how she likes to buy antique postcards related to where she is. To this end, she held aloft a postcard showing the Canton Bridge here in Cardiff. She then brought up an image of that postcard onto the large screen behind her. It was our bridge a century ago looking very much like it does now. The reverse of the postcard held a message from 1908 and the handwriting, she thought, was French. It was written with such a flourish as to be difficult to read. She would bring up the postcard again at the end of the show.

To get to know her Cardiff audience better, she asked questions of the audience, looking for stories of unacknowledged achievements. She awarded those who came forward with pencils, a memento of the show. She opened the auditorium to a Q&A, allowing the audience to ask her any question. I had many questions, but I did not care to bring further attention to myself. There had been enough. During interval, people I didn't know were saying, "Hello, Bruce." Besides, I would rather interview her in private over dinner or drinks.

As she brought the show to a conclusion, there was one last thing she wanted to do. She wanted to thank me for announcing her earlier. My reward was to be the very postcard she earlier displayed. I had to leave my seat and come to the stage to fetch it, a mere few feet from the front row.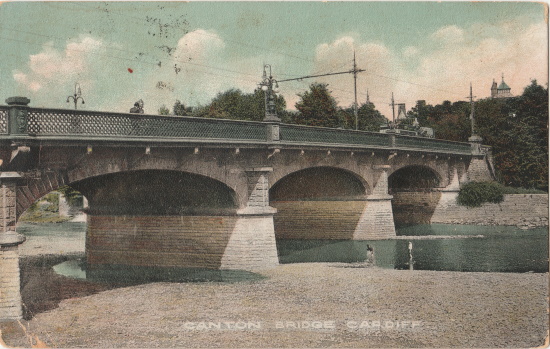 We friends were gathered in front of the theater discussing the evening. We all agreed, even me, there could now be an essay written. That very night, I brought the precious postcard to my desk and studied it. The card is postmarked the Bute Docks Post Office 1908. A multi-lingual friend, particularly knowledgeable of Slavic languages, told me the writing is Croatian. He provided me with a partial translation of the words he could discern from the difficult handwriting. The postcard had been sent to the Kingdom of Dalmatia at a time when it was part of the Austro-Hungarian Empire. There was no street address. I guess at that time it was possible to find in all of Orebić, the individual named. It is a mystery how this postcard found its way back to Cardiff, Wales.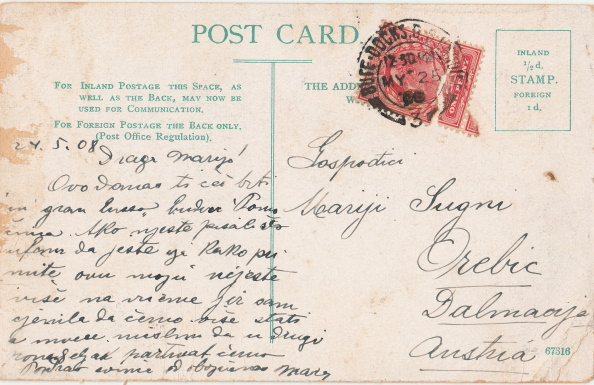 I am not finished learning all this postcard can teach me, before tucking it away between pages of my notebook-journal. It might not be me who next finds it.




Mr Bentzman will continue to report here regularly about the events and concerns of his life. If you've any comments or suggestions, he would be pleased to hear from you.
You can find his several books at www.Bentzman.com. Enshrined Inside Me, his second collection of essays, is now available to purchase.