127. Milk Wood Under a Welsh Sky

It takes me three minutes to leave the apartment building where I live and stroll across The Hayes to Saint David's Hall. It was the week of the Welsh Proms. On this particular Thursday evening the hall was presenting the Kennah-Mason Prom, which I very much wanted to attend. They are seven siblings ranging from 25 years of age down to 12. I passed them by. My ticket was for the Cardiff Open Air Theatre.

It was a fifteen minutes stroll, past Saint David's Hall and left at Cardiff Castle, beyond the castle's gate and alongside the Animal Wall, where over a dozen sculpted creatures, yards apart, drape themselves across the crown of the wall, and then across the River Taff on Cardiff Bridge (known locally as Canton Bridge). The last brief leg of this short walk was a right turn into Sophia Gardens on the west bank, wooded and dark, and a touch cooler, soon to reach the Open Air Theatre. They were presenting the Everyman Theatre Company's production of Dylan Thomas's Under Milk Wood. The performance started at eight o'clock and I was at the gate at seven-thirty. I did not see my friends. I was expecting them to join me.

I displayed my ticket to the staff at the gate and the small device in his hand did not recognize it. There was a moment of stunned concern before I discovered my mistake. Under Milk Wood was the coming Sunday. That Thursday, Everyman Theatre was performing Shakespeare's Twelfth Night.

After a few disparaging remarks were tossed from one side of my brain at the other, I began to reformulate my plans for the evening. At that very moment, seven-tenths of a mile distant, the Kennah-Mason Prom was starting. My philosophy for life kicked in; "Take only that which comes woven in the fabric of your life." I embraced my fate and bought a ticket for Twelfth Night.

The Open Air Theatre resembles an encampment. It is thrown together like a small travelling circus. The audience sits on tiers beneath a roof that is enclosed on three sides. In front and under the sky is the stage and the actors will get soaked if it rains, but it was not raining that evening. There was a bright blue sky when the play started. It would pass into night before the play was finished.

I was not disappointed. The play had been altered. It was no longer taking place in an ancient Balkan state, but in a New Age paradise. The characters were costumed like hippies. Rock songs from the 60s were interspersed throughout the play, which had the audience singing along. There were comical drug references and references to woo-woo spirituality. It worked for this play, creating a version I had never seen before.

I was back at the Cardiff Open Air Theatre on Sunday, the right day for Under Milk Wood. This time I found my friends. I found myself sitting at the end of the row next to Kevin. Kevin is from Tenerife; English is his second language. Since he was unfamiliar with Under Milk Wood, I gave him an idea of what he would see, a short synopsis. I explained how it was a play written for the radio. I did not know how it was to be presented on the stage. I also explained what an "innuendo" was, providing examples. There would be innuendos.

The Everyman Theatre Company took a very clever approach to presenting it as a radio play. The stage was dressed to look like an old BBC radio studio. The actors entered in street clothes from the early 1950s, voice actors coming in to work greeting each other. It was presented as a live radio production. You got to see how the sound effects were produced. But the actors didn't limit themselves to addressing the microphones. They sported pieces of costumes and props at times, like headscarves and a baby doll, acting their roles as they spoke.

I mused at my happy circumstance, to be hearing – seeing – Under Milk Wood being performed under a Welsh sky, sitting with friends who, except for Kevin, were Welsh. Since I came to Wales, each of my Welsh friends has made a point of telling me Llareggub, the fishing village in Under Milk Wood, is "bugger all" backwards. But then why didn't Dylan title the radio play Under Llareggub? Where did "Milk Wood" come from? There is a story that Dylan, accompanied by American agents while riding a London bus, was advised that Llareggub was too difficult for Americans. Was it just a whim, while the bus crossed Waterloo Bridge, that Dylan decided on Milk Wood, because he briefly stayed on Milkwood Road in London? Is there no better reason for the indecipherable title?

Yes, according to my friend Ann, a daughter of farming and a faster sheep shearer than most men, if only she had been allowed to compete. Her grandmother's veterinarian, Tommy Herbert, was a friend of Dylan Thomas. Thomas accompanied him on his rounds to such farms as were named Wernllaeth, Llaethdy, and Llaethliw. Wernllaeth translates to "milk alders", Llaethdy to "Dairy", and Llaethliw to "Milky".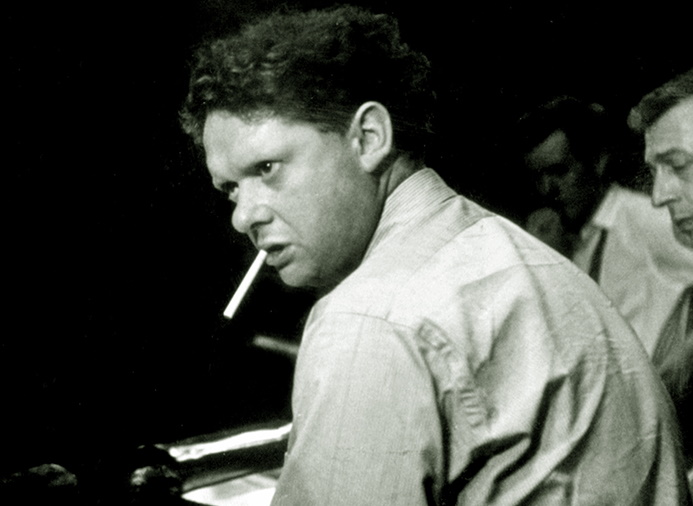 Dylan Thomas

Ah, Dylan. Could Dylan Thomas speak Welsh? Apparently, yes. I was given to believe he couldn't, but I was wrong. He didn't admit to speaking Welsh, being concerned as to how it might affect his career. The 1950s was a time when Welsh was discouraged.

Did Dylan die of alcoholism? He probably would have in time, but he didn't. He returned to the Hotel Chelsea in Manhattan after some serious drinking at the White Horse Tavern in Greenwich Village. The doctor who treated him, Doctor Feltenstein, incorrectly diagnosed his condition. Assessing that the problem was from his alcoholism, Doctor Feltenstein injected him with shots of morphine. It was pneumonia. The morphine exacerbated his condition. He would die from pneumonia. Despite the famous amount of drinking, his liver showed no sign of cirrhosis.


Rosie Probert:
Knock twice, Jack,
At the door of my grave
And ask for Rosie

Captain Cat:
Rosie Probert.

Rosie Probert:
Remember her.
She is forgetting.
The earth which filled her mouth
Is vanishing from her.
Remember me.
I have forgotten you.
I am going into the darkness of the darkness for ever.
I have forgotten that I was ever born.


I had no memory of that passage near the play's end, but Sunday night, hearing the play for the first time in twenty or more years, it struck me hard. When I reached home that night, I pulled Under Milk Wood off the shelf and copied the passage into my notebook-journal. I mused over it.



Mr Bentzman will continue to report here regularly about the events and concerns of his life. If you've any comments or suggestions, he would be pleased to hear from you.
You can find his several books at www.Bentzman.com. Enshrined Inside Me, his second collection of essays, is now available to purchase.