No longer suburban, Bruce Bentzman offers the latest piece in his new series:

From the Night Factory
17. The North Gate
For most of the last fifty years, I have lived in the suburbs of Philadelphia and visits into Center City have been routine since childhood. As a child, I mostly accompanied my parents, but at twelve I made a weekly commute (with friends) to attend a summer science class at the Franklin Institute. A thousand visits later and last week, I accompanied Ms Keogh, my more significant other, into Philadelphia, just for the pleasure of her company during the drive, and to save her from the time and trouble of finding a place to park. I dropped her off at Hahnemann University Hospital where she was teaching. It was a beautiful evening, warm and with no risk of rain. While she was busy, I strolled the downtown area without purpose.
The narrow streets of Center City Philadelphia form a grid. They are numbered from the east to the west and the perpendicular streets are named. There are numerous exceptions to this pattern throughout the city, but it is fairly consistent. The two widest streets meet in the middle dividing Center City into quarters, they are Broad Street running north and south, and Market Street running from the Delaware River on the east side and the Schuylkill River on the west side. Where these two main thoroughfares intersect, they don't. Instead, there is a plot of land that William Penn designated as a public space in 1682, Centre Square, the heart of the City at the time. Onto this plot the city plopped City Hall in 1871, a building in the Second Empire style of architecture. There are four more squares, symmetrically distributed, an equal distance from Centre Square and each the center of its quarter.
Philadelphia's City Hall is a remarkably ornate building embellished with columns and figures. A Victorian layer cake, its frosting is crammed with symbols begging to be decoded, but who bothers? Millions must have passed it by or walked through it, regarding it as a decorative backdrop too time-consuming for study.
The great building consists of four joined wings that leave a public courtyard at its center. There are large portals that pass through each wing allowing access to the courtyard. They line up with Broad Street and Market Street. Rising from the building is a tall clock tower making this the world's tallest masonry building. Who would have thought that Philadelphia could lay claim to such a thing given all the cathedral spires in the world? The clock is larger than the Great Clock at Britain's Parliament. Atop the tower stands William Penn, in bronze, holding a scroll. From certain angles it looks like he is taking a piss (and there are local legends claiming that this was intended).
I have walked through the east, west, and south portals and across the inner courtyard numerous times over the last fifty years. For no particular reason, in all that time I had never walked through the north portal. That night, returning to where I had parked the car and to collect Ms Keogh, I passed through City Hall for the umpteenth time.
Entering from the south gate, I looked across the courtyard at the clock tower attached to the north wing. It climbed in front of me. From the courtyard, the north gate appeared the smallest of the four portals and I ignored it, as I have always ignored it, and started for the west gate. The west portal was blocked by a chain-link gate beyond which there was construction. So, I went into the smaller passage to the north gate, constrained and uninviting though it might be. It bore a hole through the base of the massive clock tower.
I passed through a thick wall until I reached a small room there in the base of City Hall's clock tower. I was stunned! I was Howard Carter entering King Tut's tomb; "Yes, wonderful things." It was like finding a treasure-trove in a concealed chamber. Four marble columns held the ceiling and I knew above that was the oppressive weight of the clock tower. The capital on each column was carved with a collection of human figures straining to hold up an abacus.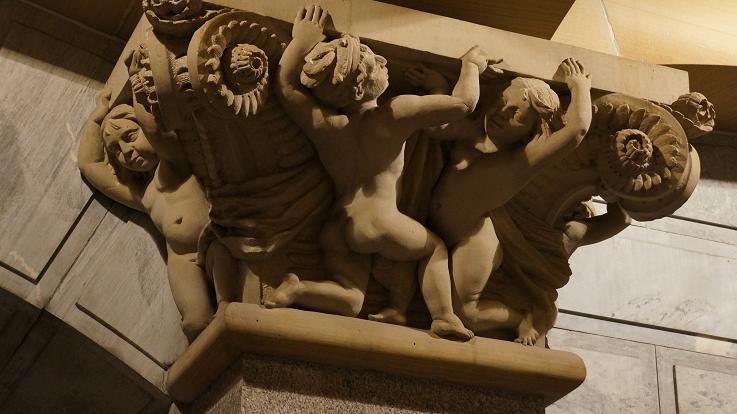 Without a guide book, I could still interpret their obvious intent. They represented the people of the world. One depicted Africans, another Asians, the third Europeans, and the fourth Native Americans. On capitals along the walls were cherubs, also racially defined. In each wall was an arch, each keystone a different animal.
East had an elephant with broken tusks and missing the tip of his trunk.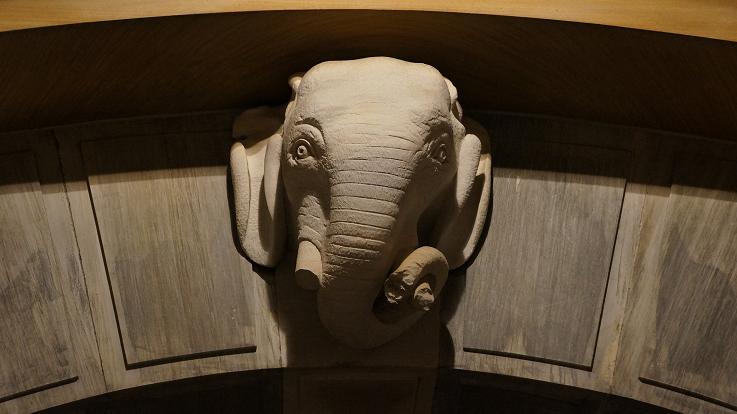 North was a bull with broken horns and a chipped nose.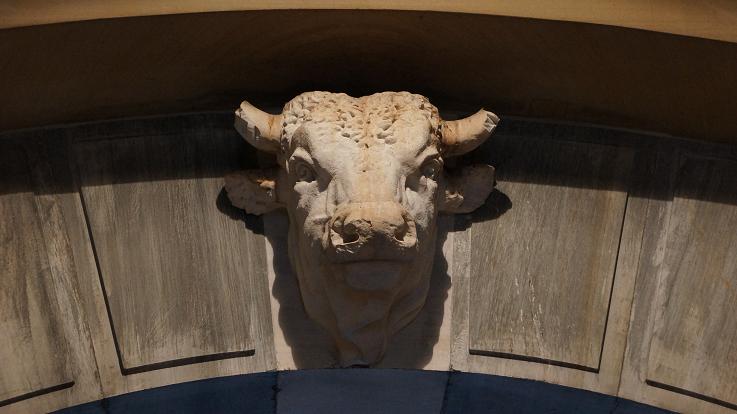 Were these injuries of time or vandals? West was an unconvincing bear. South was either a tiger or lion, I could not be sure.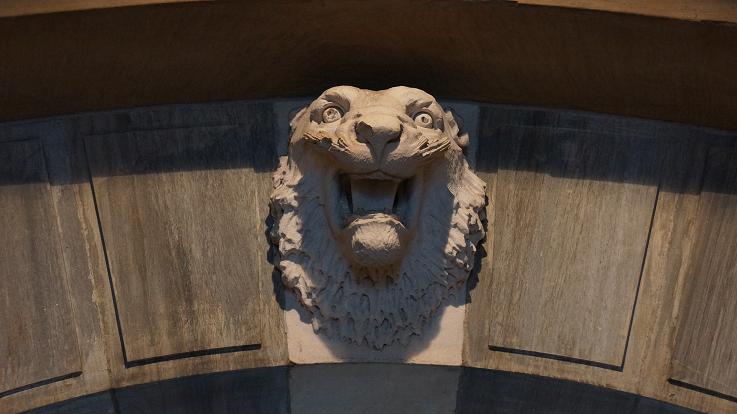 Along the edges of the floor ran a mosaic band of geometric designs.
Later, at home, I followed up with research. The room, I learned, is called the Crypt and the sculptures are by the hand of Alexander Stirling Calder, son of the sculptor Alexander Milne Calder and the father of the famed kinetic sculptor [mobiles] Alexander Calder. I also learned that there are hundreds of other items to be explored and discovered in and about City Hall.
It wasn't that the room overwhelmed me by being adorned with great masterpieces. They were not masterpieces. Still, that small room was sufficiently amazing to impress me and what was vexing is that I had passed within a few yards of it hundreds of times without making that easy discovery. I need to go back and explore City Hall and its hidden wealth of architectural ornaments. Who would have expected to find such things in Philadelphia? And now Ms Keogh wants me to take her to Europe.
Europe!, where they have had so many centuries to fill in every gap with elaborate details….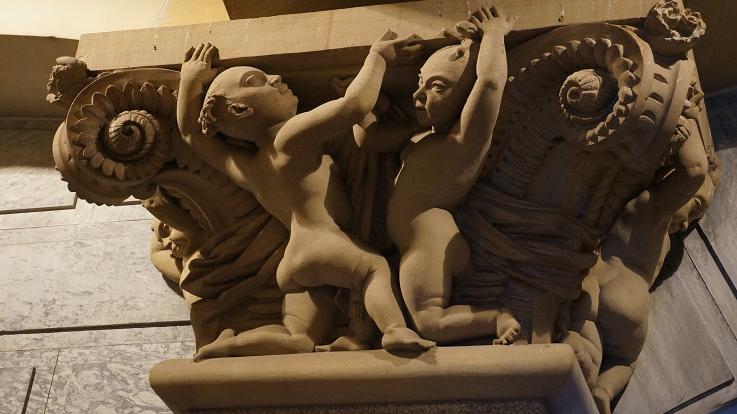 Mr Bentzman will continue to report here regularly about the events and concerns of his life. If you've any comments or suggestions, he would be pleased to hear from you.
Mr Bentzman's collection of poems "Atheist Grace" is available from Amazon, as are "The Short Stories of B.H.Bentzman"