Harissa Chicken with Cauliflower and Potatoes.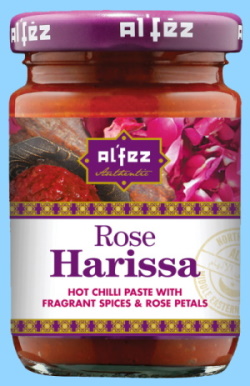 First - set the oven. It should be
Warmed up to reach one-eighty C.
Then take two legs, and to my mind
Youíre best off with the free-range kind.
Yes, this increases the expense,
But the chickeny flavourís more intense,
So I say, over-ride economy
In the interest of gastronomy.

To give the legs a spicy taste,
Rub them with Harissa paste.
Harissaís fierce and fiery stuff,
But donít be scared Ė do use enough.
Be generous, and poke some in
The cavities beneath the skin.
These coated legs can then be laid
Aside to gently marinade.

A cauliflower can now be chopped
To small florets, which should be popped
Into a metal roasting dish
(Or ceramic, if you wish).
Some new potatoes also can
Be sliced and mixed in the same pan.
Be free with pepper and with salt -
To under-season is a fault.
My own hint here is to include
A spoon of turmeric, a superfood
That is chock-full, allegedly,
Of Covid-fighting Vitamin D.
Stir it around, and when thatís done,
A tablespoon of oil and one
Of vinegar distilled from wine
Will give more flavour and combine
To give the veg a glossy look.
Now - into the oven! Let it cook.
Stir up this veggie mix quite often.
In half an hour youíll find it soften.

Then pile it into two large heaps.
Each pile becomes a bed where sleeps
A leg of hyper-spicy chicken.
Let the roasting process quicken
By turning up the heat some. Two
Hundred degrees will maybe do.
As you roast, each leg produces
Chickeny and delicious juices;
Throughout the cooking they will seep
Into each vegetable heap.
Thirty minutes later, it's for you
To ensure each leg is quite cooked through.
Poke with a knife. If juice is red,
Put the chicken back to bed.
If clear, remove the legs and max
Their taste by letting them relax.

Mix half a stock cube in half a cup
Of boiling water, then mix this up
With your veg in the oven (now turned down).
The mixture should be golden-brown.
Let this cook through a while or two.
Then it's the special time when you
Replace those spicy legs plus (need I state?)
The oozings from their resting plate.
How to complete the dish? Just pop
Chopped coriander on the top.
Serve this up on nice warm dishes.
You will find it quite delicious.

George Simmers


This recipe is based on one by Jamie Oliver, but he uses Chicken Tikka paste, not harissa. I've tried both, and harissa is zingier.
Some chopped garlic is a useful addition to the cauliflower and potato mix.

If you have any thoughts on this poem, George Simmers
would be pleased to hear them.